John, Jake & Number 8
Student, alumni share experiences on football field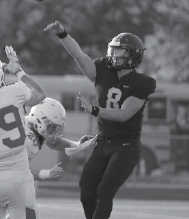 It may seem like junior Jake Wolff and Blue Valley alum and elementary teacher John McCormick wouldn't have much in common, yet they do––playing quarterback of the school's football team, sharing the number eight on the back of their jersey.
McCormick played on varsity for three years, then went to play in college.
"I started out at the Air Force Academy — I tried to play football there but ended up getting hurt," McCormick said. "I finished my undergraduate degree at Northeastern University [in Boston]."
In 1998, McCormick won the all-state player award as a sophomore.
"It's a nice honor — I think it speaks more to the people you have around you as a player than you as an individual," McCormick said. "I would not have been as good as I was without really good players around me."
Wolff started playing football during kindergarten as running back.
"My dad supported me [playing football] at a young age and kept me going and pushing me," Wolff said. "I just fell in love with it."
Besides going from playing running back to quarterback, Wolff noticed changes throughout his years of playing football.
"As you get older, things get more complicated, people start moving a lot faster," Wolff said. "The play style seems to be more open in terms of offense and schemes."
McCormick picked the number eight because it was his brother's. Wolff picked the number for different reasons.
"I used to always be number seven —that was my lucky number, but I joined a team and seven was already taken," Wolff said. "I went with eight and rolled with it."
Wolff said the number on the back of a player's jersey is part of their name.
"I think everybody has an identity, and that's definitely mine," Wolff said. "It's like the eight-ball."
Wolff said the past few seasons have fallen short of previous expectations, but he hopes for that to change.
"[The pressure] is fun, but sometimes it can be overwhelming — I have older people and the rest of the school leaning on me," Wolff said. "Our motto this year is 'Restore the Order' and that's the goal."McCormick's favorite part about playing high school football was the family.
"We were a pretty tight-knit group," McCormick said. "Many of [us] still keep in touch today."
Wolff said he has noticed the change in his own football family.
"To me, it seems like the team is a lot closer — everybody just loves being around each other," Wolff said. "When you come to school, everybody's always patting you on the back, telling you good luck. I'm thankful for all the support"
Looking back, McCormick realizes benefits from playing football.
"Playing and being on a team is a great foundational stepping stone in life," McCormick said. "Lots of skills a person gets in the game can be transferred into areas off the field and into your daily practices."
As for any advice for Wolff, McCormick said to be humble.
"Play for the name on the front of your jersey –– not the back," he said. "Playing that position comes with a lot of responsibility. Never get too high or too low about your play or yourself."