A night of fun
Dance, cheer attend Cheerball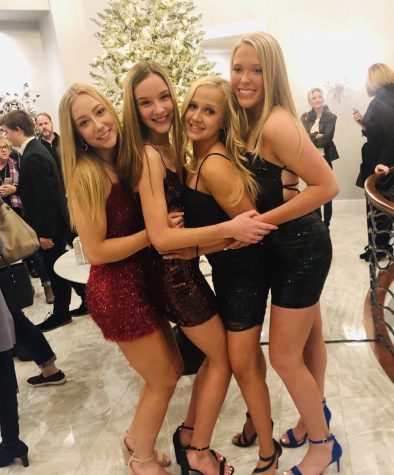 The first weekend in December was very special for a certain group of girls. Dance and Cheer teams got to participate in their very own dance: Cheerball.
The girls got to choose their dates, and the people attending the dance got dressed up, take pictures, went to dinner, and partied on the dance floor.
The groups for Cheerball have split four ways; each grade had its own, separate plans before the dance. All grades on the cheer team got to attend the dance, which is the first time being done.
Usually, only seniors on the cheer team attend but this year every grade attended.
The dance was hosted by Olathe East, which was part of a fundraiser for their cheerleading team. 
A freshman cheerleader, Payton Keller, went to Cheerball for the first time.
"My favorite part of the dance was having all of the schools be together," Keller said, "It was really fun."
Not only did Keller had a fun time but so did a junior cheerleader, Emily Bernard.
"Cheerball is really fun because you get to dress up," Bernard said. "You get to spend time with your friends."