Fresh Kicks
Students sell unique shoes on Instagram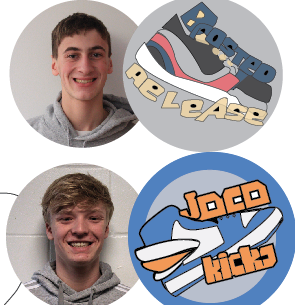 Reselling shoes and clothes has been made easy with apps like Instagram and PayPal. Two students have been invested in reselling on social media. Their accounts aren't just your regular closet accounts trying to get rid of old clothes — instead, they sell expensive and rare items.
George Perkins, a sophomore who has had his account since eighth grade, is into reselling. His account, followed by almost 2k people is @boostedrelease.
"Me and my neighbor were sitting on my driveway one day talking about making an account," Perkins said. "We just randomly thought of that name."
Perkins has sold over 700 items ranging from Nike and Adidas shoes and Supreme clothing. Prices differ on how rare they are and on how expensive they were to buy.
"Depending on the item, I try to make a 20 percent margin on each thing I buy," Perkins said.
Buying from other resellers or straight from the company releasing it itself is where Perkins gets his products.
"[A reseller will] ship it to me through USPS, and I use PayPal to pay them," Perkins said. "Then, I post it on my Instagram page and try to sell through there."
Perkins enjoys finding things that aren't sold to the public yet or things that are cool to him. Even though Perkins favorite brands for clothing and shoes are Nike and Supreme, he has a special favorite item.
"I have a signed Travis [Scott] picture," Perkins said. "I've owned a few of his shoes."
Sophomore Jake vonSeldeneck also has a knack for reselling shoes on his Instagram account called @jocokicks; vonSeldeneck started selling in September of 2017.
"[My friends and I] always liked sneakers and figured out that there's money to be made, so I started to resell," vonSeldeneck said.
The shoe account has 2.6k followers on his Instagram reselling account and sold 170 pairs of shoes in 2019.
"Right now [reselling] is just a way to make money — instead of having a real job," vonSeldeneck said. "It's not necessarily like going to work because it's on my phone. I'll be at school messaging people if they're interested in anything, so I make sales all the time."
Even though vonSeldeneck ran into some difficulties he hit $30,000 in sales.
"There are people that will waste your time," vonSeldeneck said. "They'll just ghost you if they just change their mind or something."
Selling lots of different kinds of shoes, vonSeldeneck said he's sold a lot of Nike and Adidas shoes — but mostly Yeezys and Ultra Boosts. His successes so far have also influenced what he would like to pursue in the future.
"[I've] been able to make money without having to actually go and work a real job — it's a lot easier," vonSeldeneck said. "I definitely think I'll go to college and get a degree in business."
Being involved in the business of reselling has helped vonSeldeneck and Perkins figure out their future careers.
"I've been able to connect with a lot more people that I would have never known without reselling," Perkins said, "I've been able to figure out what I want to do for a career path through reselling."