Odyssey Thirty Nine
Junior plays keyboard in up and coming band
Junior Nathan Staley has many tricks up his sleeve: hosting a YouTube channel, designing merchandise and playing in a band.
"
Nathan Staley, 12
— "It's definitely serious but at the same time it's super fun because we're all really good friends."
Staley's band, Odyssey Thirty Nine, came together in 2014, made up of three of his closest childhood friends he met at Prairie Star Elementary School.
"There are three brothers and me," Staley said. "We've known each other since we were like six." 
The quartet has always had a fascination with music. For the past eight years, Staley has played classical piano, which he continues to improve with the help of lessons. He says it is a way for him to let out all of his stress. 
"We started doing music because it's our passion, but we also had been playing music before creating the band." Staley said. 
The siblings started the band a few years before Staley decided to join with his addition of the keyboard. 
Since the other band members live in Dallas, Texas, Staley flies there every couple weeks so his band can practice and create music.
"It's tough being apart from the three other guys, but it's a factor that we just can't control," Staley said.
The name, "Odyssey Thirty Nine", represents the origins of the band.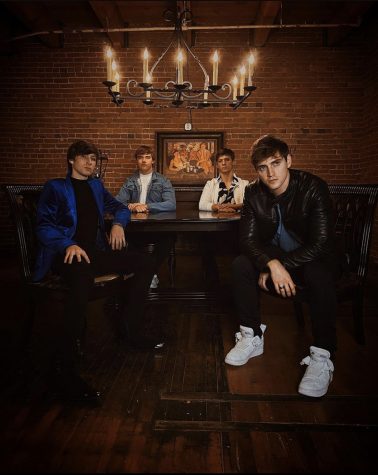 "Odyssey means the journey we've gone through," Staley said. "Thirty Nine is the highway to the lake which is where we wrote our very first songs."
Before the pandemic, Odyssey Thirty Nine traveled to a few cities around the country to perform at different venues and festivals. They have been to Dallas, Nashville and the West Bottoms in Kansas City.
Along with performing, they also recorded in those areas, too. 
"It's definitely serious but at the same time it's super fun because we're all really good friends." Staley said.
They have a few of their own songs but started off playing songs from other artists.
"We cover [the genre] classic rock, [but] we write alternative [music]." Staley said. "So, [it's] kind of like alternative pop."
Recently, the band signed a contract with Union Entertainment, where they've produced four songs.
"[Union Entertainment is] a business in Nashville," Staley said. "Our manager Tristan Jackson set us up to be on this label."
In the last week of October, they finished producing their last song with the agency.
"Our single called 'Plain Sight' will be released sometime around December or January," Staley said. 
The future for their next contract and plans is up in the air as of now, but Staley would like to pursue his musical career more in the future. 
"That would be the dream," Staley said.
Staley enjoys bringing all their creativity together to make something they all love. 
"The best part is just going in the recording studio and being together because we're all best friends," Staley said.