Beauty Bloggers
Seniors show off cosmetic skills on social media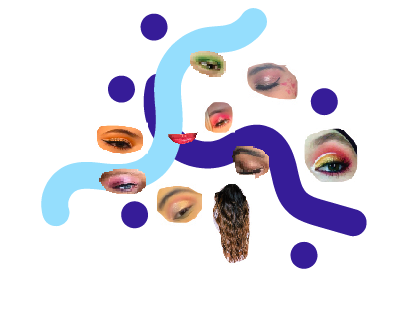 Over quarantine, many people started to partake more in social media trends. Senior Alaina Scotten started a new Instagram account dedicated to makeup and beauty. Her account handle is aks_makeup1. Her love for makeup spans past her Instagram to client work.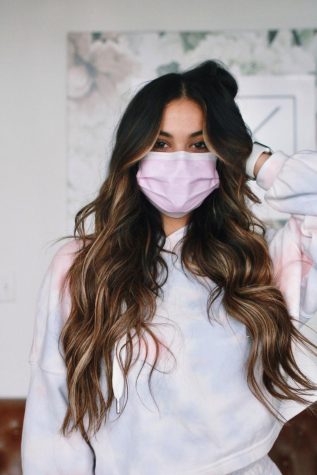 "I've always loved doing makeup, and girls started reaching out to me to have their makeup done for dances and events," Scotten said. "I decided that if I make an account, more people will reach out."
Scotten not only works with her peers but has branched out into more serious client work with photographers. Recently she worked on a "Euphoria"-themed photoshoot where she did bold makeup on all the models.
"I have done makeup for photoshoots, and whenever I'm bored, I mess around with looks on myself," Scotten said. "This photographer from Blue Valley Northwest has had me do makeup for some of his clients and promotes my account."
While fame can be a motivating factor for many teens, stepping into the world of being a social media influencer is not the primary reason for Scotten.
"If I had one follower, I would still post because it's something I'm really passionate about so I don't really care if others are interested in it because it's mainly for myself," Scotten said. "I would definitely say I'm posting just for fun and also to help out people who are just starting in makeup — I don't expect to get famous at all but if I do that could be fun."
Scotten currently only has an Instagram account but is also thinking about branching off to different social media. On Instagram she posts photos of her looks, but has yet to start doing tutorials.
"I've been thinking about making a TikTok because that could be an easier platform to use but for right now, it's just Instagram," Scotten said.
Videos tutorials are not the only new content coming to aks_makeup1 — new types of posts have been requested from Scotten.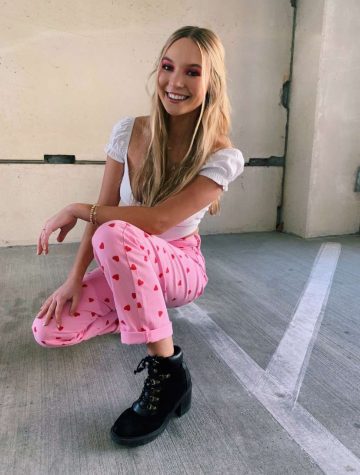 "I'm really big into skincare, and I have been for a long time — I can see myself posting about that because I normally have a lot of people ask me about it and what products to use," Scotten said. "I have posted one picture of hair I've done, so I can definitely see myself posting more."
Although Scotten only has 56 followers, she has support coming in from all types of people.
"My parents are very supportive. They've been pushing me to do something with makeup, and they were really happy I made an account," Scotten said. "My friends are definitely my number-one supporters because they ask me to do their makeup all the time."
Along with Scotten, senior Gabby Esposito has also found her passion within the makeup and social media community.
Having had a liking toward the beauty industry for quite some time, Esposito decided to create her Instagram account after receiving an overwhelming amount of encouragement.
"My hairstylist was always telling me I should start posting more," she said. "She's helped me grow my account by posting about me and giving me shout-outs."
Along with her hairstylist, Esposito has received positive feedback from her peers and family members that has pushed her to expand her content.
"My account is a combination of makeup, hair and nails," she said. "I'll post my nails when I get them done or if I do someone's hair I'll post that as well. I mostly post pictures of the makeup looks I do though."
Since starting her account, Esposito has had the opportunity to do wedding makeup for family as well as makeup and hair on her peers for events.
"My favorite look I've ever done was for [senior] Lucy Lobb for Sweetheart," Esposito said.
Like many other creators and content builders, she has faced her own set of challenges that has pushed her to step outside of her comfort zone.
"Sometimes people will come to me and ask me to do a look that just matches their outfit," she said. "They don't really give me any inspiration to go off of, so I am forced to get creative."
Similar to Scotten, Esposito is focused on using her account for personal enjoyment. Despite only having 35 followers, she doesn't let numbers get in the way of her passions.
Not holding any obligations to its successes, Esposito doesn't pay attention to her following.
"I don't necessarily care if it grows because I'm doing this for me," she said. "If it does, great. If it doesn't, that's fine, too."
Having had the time to get creative and find ways to display unique talents, both Scotten and Esposito have been able to pursue their passions and showcase them to the world. Focusing on their own priorities, both have proven that social media accounts focused on beauty do not need to be engineered to fit the likings of anyone but yourself.
"Do what makes you happy," Esposito said. "Don't worry about what anyone else might say."