Oreo Obsessed
Celiac offers opinion on Oreo's new gluten-free option
"This sounds crazy, but I have 17 packs [of gluten-free Oreos] at my house right now."
Like many others who are deprived of traditional sweets, sophomore Sydney Ruder struggled finding gluten-free alternatives due to her celiac disease. Then at the beginning of this year, Oreos released a gluten-free version of their classic frosting-filled cookie.
This was particularly exciting for Ruder, who had never been able to truly experience this cream-filled delight. Nonetheless, most had a similar reaction upon hearing her Oreo obsession.
"They think I'm insane," she said. "They think I'm crazy when I'm like, 'Oh yeah, I have 17 packs at my house.'"
Some still question why she would need such an abundant supply for this seemingly normal treat.
"They're like, 'Why do you have so many?' but I have to explain to them it's not like a normal Oreo," Ruder said. "You can't just go to a store and they're stocked on shelves; they're sold out most of the time when you go to the grocery store."
After finding little luck in typical supermarkets, she had to find other ways of obtaining this newfound obsession of hers.
"We ordered 12 off of Amazon because they're sold out everywhere you find them," Ruder said.
She has been doing her best to spread the word to anyone and everyone she can, although she focuses on selling it to those with gluten sensitivity or allergies and celiac disease.
"I recommend it to the two families I babysit whose moms are both gluten sensitive, so I brought them over to their houses because they couldn't find them anywhere," she said.
The question still remains though, "What is so special about these compared to other gluten-free Oreo dupes?" For Ruder, a sense of normalcy was something she lacked while growing up after learning she has celiac.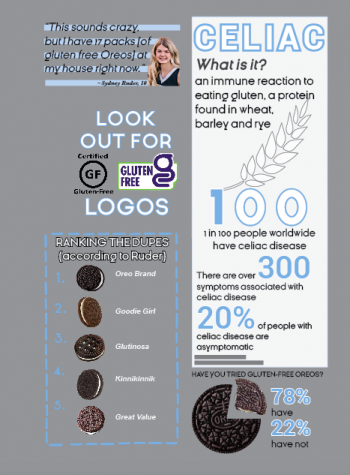 "I was only diagnosed in about fifth grade, but whenever I had a normal Oreo when I was younger, I would only lick the middle out and then just put the cookie back in my lunchbox," Ruder said. "Once they came back out in gluten-free, it brought me back to my childhood since I haven't had a normal Oreo in seven years. It reminded me of way back when I could have all this food before we figured out I had celiac."
Additionally, Ruder claims she has not found an Oreo alternative that tastes as similar to the original cookie.
"There's the Oreos I would have before Oreo came out with gluten free— one was glutinosa, and they taste completely different," she said. "This is a lot better. Even though they're both really expensive because gluten free foods are just always expensive, I would definitely recommend the Oreo brand over any other brand that's gluten-free."
A common misconception held by many is that gluten-free alternatives taste noticeably different, which in many cases, they can. However, Oreos's similarity has allowed them to dominate the gluten-free dessert industry.
"Honestly, I didn't think it would taste the exact same because looking at all the other foods that I have —  it takes some trial and error," Ruder said. "My brother was curious about what it tasted like, so he tried it and said it tastes the exact same as normal Oreos."
To anyone in search of a new gluten-free dessert, there aren't many options that can top these.
"Definitely go buy them, even if you don't have celiac," Ruder said. "It's by far the best thing I've discovered that's gluten-free."