Recapping at CAPS
Seniors check-in after adjustments made to programs
When it comes to learning more about yourself and your professional development, look no further than the CAPS program. Created in order to invest students in opportunities, CAPS is known for its advanced environment with programs that ensure interactive learning. But what happens when a pandemic strikes and students no longer get that consistent hands-on experience?
Taking CAPS in the engineering strand, senior Miranda Holloway is interested in the interchangeable aspects of the field. "I thought the flexibility of engineering and design mindset would be fascinating," she said. Going further in the professional world, Holloway is interning through CAPS with Cerner Corporation, a healthcare IT company based in Kansas City. "I have had an amazing time getting to learn from my instructors, peers and real-world business partners and other outside connections," Holloway said. With COVID, CAPS has had to pivot its curriculum. "I wish we had more opportunities for field trips," Holloway said. "I have heard stories from our instructors about how they used to have the opportunity to work closely with the big engineering firms in the area." Looking on the brightside, Holloway said she has enjoyed her time at CAPS. "I had no idea how much I would learn about engineering and how many connections I would make," she said. Holloway has been able to take away rich tools for her future. "There are many opportunities that CAPS offers," she said. "CAPS focuses on pre-professional and career preparation skills and knowledge."
Senior Autumn Dixon covers sports medicine and physical injuries in the field. "I chose this course because I've been interested in being a physical therapist for a while and wanted to get a feel for what it would be like before starting college," she said. Dixon was keen on the more career-inducing atmosphere of the program. "I expected CAPS to be a professional work-space where students are treated like adults and able to be more independent than they are in regular school, which is definitely the case," Dixon said. Regarding the changes of CAPS due to the coronavirus, Dixon finds the program to be just as enriching as if it were a normal year. "CAPS has definitely exceeded my expectations," Dixon said. "I feel like I've learned more in the past few weeks that'll help me in my future profession than I have in all of high school." While respecting the safety guidelines, Dixon said students are less divided than expected. "I absolutely love the atmosphere and being able to collaborate with people who are interested in doing the same thing as me as an adult," Dixon said. "My favorite thing about this class so far was getting CPR and First Aid certified — these are both things that are really important to have, no matter what job I end up having."
Wanting to grasp the professional side of life, senior Husam Younes enrolled in CAPS. "I joined hoping to have a better understanding of different jobs in the real world and see how they really feel," Younes said. "It was proven right." At CAPS, Younes is involved with the innovation and entrepreneurship strand, leading students to create products or businesses. "Although I am planning on going into dentistry, I am still enjoying learning more about the business world," he said. When it comes to connections in a professional environment, shadowing a mentor is common. "A really big reason I joined CAPS was in hopes that I would shadow different places and really see how things are," he said. "With COVID, we are not allowed to shadow which takes a little bit of the experience away." In spite of the inability to shadow, Younes still found a way to view the course positively.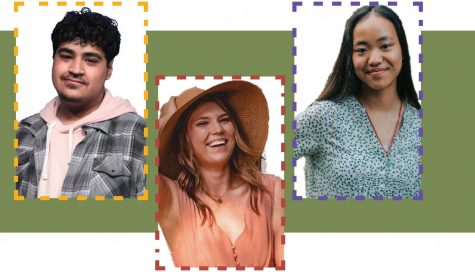 "Even though we all have our different ideas, we are all brainstorming together," Younes said. "We are helping each other and getting the experience together — that is different from what we do in just pure, typical classes."