Hear it. See it. Live it.
students share experience with music over the years
Whether you turn it on while driving to work, studying, or even dancing around your room while getting ready, music is such a valuable addition to many people's lives. For seniors Melody Tzang and Erika Kolseth, music is essential because of the connections they form with others as well as with the music.
Both Kolseth and Tzang have felt a connection to music from a very young age. Since Kolseth's dad is a musician and Tzang's mom is a pianist, they've grown up being surrounded by music. This immersion into music has, in some ways, inspired their love for it. 
"I first started out with piano in kindergarten," Tzang said. "My mom is actually a piano teacher and she knew that if I took piano lessons I would have a really good foundation of music to be able to play any instruments in the future. I'm really grateful for that."
That foundation of music has helped Tzang to play the viola and the harp as well as the piano. She has been juggling all three of these instruments for the past six years.
"Ultimately, learning all three instruments has helped me grow so much as a musician," Tzang said. "I've found that each one kind of influences my playing and musicality in the others."
Kolseth, on the other hand, has been singing and writing her own music for more than eight years. 
"I've been writing since elementary school," Kolseth said. "I was writing poetry and then when I started playing the piano I wrote chords for that poetry, so it all kind of started at an early age. I would [also] challenge myself to try and copy other artists' styles like riffs and singing higher than your usual or singing lower than you're usual."
"
Ultimately, learning all three instruments has helped me grow so much as a musician. I've found that each one kind of influences my playing and musicality in the others."
— Melody Tzang
When she was younger, Kolseth was told by many teachers that she had a good voice and was asked to audition for multiple musicals. Her first performance was for her fifth-grade talent show singing Let it Go. 
"I wore a blue dress that was sparkly and I had my hair braided to the side – I was Elsa," Kolseth said. "I was the first person to go and it was exhilarating. I was never a shy kid, I always loved to sing for people and go up on stage. I feel so fulfilled onstage, it's just something that you can't beat."
Tzang feels a similar love for performing in front of people and has been performing for retirement homes with her mom since she was little. 
"I've performed regularly at various retirement homes in the area," Tzang said. "When I was younger I would just play a few pieces, but as I grew older, I started to engage more with the residents of the homes. Those performances helped me realize just how powerful music was to the residents and how they responded and resonated with the music."
When Tzang saw how important music was to the residents, she recognized that her friends were missing out on this opportunity because they didn't have the connections that she did. With this new realization, during Tzang's sophomore year of high school, she formed her organization Melody and Friends. 
"I started contacting my friends and organized performances at various retirement homes in KC," Tzang said. "I only asked them to stay after and thank the residents. That was my only caveat, just so that they could interact and feel that same experience that I could after we played for them."
Although Tzang was very proud of what Melody and Friends had already accomplished at the retirement homes, she knew she wanted to do more with her organization. This being said, she went on to form a benefit for a local nonprofit called Girls on the Run KC and raised enough money to support an entire team of girls for their next season. 
"That was definitely a highlight of my high school career," Tzang said. "What I really got from that experience was that community service projects like my benefit concert don't have to be started somewhere halfway across the world."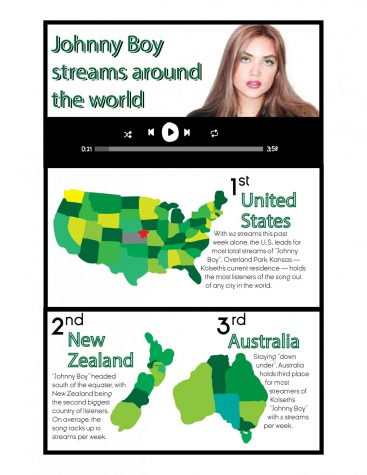 Like Tzang, Kolseth also has the drive to make a positive impact on people. Although for Kolseth, she makes an impact by connecting with people through her songs. About a year ago, she decided to release one of her songs to the public but ran into a bump in the road when it came to getting a producer.
"I recently became obsessed with producing," Kolseth said. "I wanted to hire a producer, but it's really, really expensive, so I kind of figured let me do this on my own – I have the ear for it, I can do it." 
With this newfound motivation, Kolseth spent all summer learning how to produce, and eventually, that time and energy began to pay off. 
Knowing producing is what she wants to do with her life, she decided to put her skills to the test and release one of her songs – Johnny Boy.
"The songs I write, I want people to hear because I write them specifically to be heard," Kolseth said. "I just wanted to share what I had to say to the world so that's why I released a song."
Kolseth's song, Johnny Boy, is now available on Apple Music and Spotify and is gaining more and more popularity every day. In the fall, she's planning on continuing her passion for music by going to Berkeley College of Music and obtaining a major in producing with a minor in songwriting. Tzang also plans to continue pursuing her love of music by attending Duke University and majoring in music harp performance.
Even though Tzang and Kolseth are going out of state for college next year, they still plan to continue to use their musical talents to help better themselves and others around them.
"I really do believe in service that directly impacts the community, right here," Tzang said. "And I plan to use my gifts, musical or otherwise, to make a positive impact on my local community wherever I go."