Holding Down the Fort
Junior discusses experiences within military family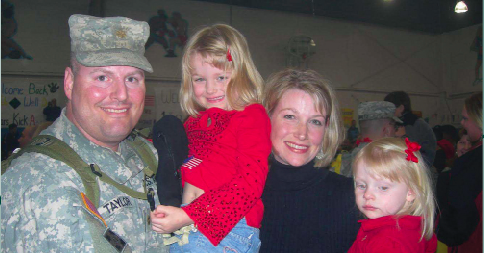 Being in the military brings about dedication enough from enlistees and officers themselves, let alone the families supporting them.
Junior Abby Taylor, a member of one of these families, provides a glimpse into the unique experiences she has amassed through having a father in the Army.
"Every two to three years, they relocate you based on what they need," Taylor said. "I've lived in California, Texas, Virginia twice, Tennessee and now Kansas."
Similarly to how Taylor has seen variety in where she's lived, her father has encountered a variety of different assignments while on the job.
"He was deployed twice to Iraq and Afghanistan," she said. "When we lived in DC, he worked in the budgeting office at the Pentagon, and he also led a brigade in Tennessee."
As one might expect, living in five different states has brought its challenges, and Taylor acknowledged a few.
"It's hard to be the new person at school, get used to a new area, and find all your new favorite places, but I'd say it's definitely rewarding in the end," she said.
Furthermore, Taylor pointed out specific ways in which she believes her frequent moving around has given her the upper hand.
"It's definitely taught me how to adapt, how to move spaces easily, how to be resilient and how to make friends quickly," she said.
Though relocating to new places has created an obstacle to sustaining relationships, Taylor and her family have managed to stay in touch with their diverse array of friends across the country through social media and other methods.
"We're actually going down to Texas in November for a meetup of some of [my dad's] old brigade members, so that's pretty fun," she said.
Along with providing a distinctly varied network of friends, Taylor notes that having a parent in the Army has also given her a unique perspective on both past and current events.
"I have a newfound appreciation for DC and all its history," she said. "Whenever there's something on the news like a military event, I can relate to it a little bit more than most because I've heard about it, my parents have talked about it and I've grown up with that aspect."
In addition to affecting her viewpoint on historical and present happenings, Taylor's experiences have partially shaped her plans for the future.
"I want to go into interior design, but I've always been interested in moving back to DC and working there," she said. "I just love the atmosphere and the ambiance of Washington."
On the whole, Taylor expressed that her father's involvement in the military, despite its ups and downs, has served to create deeper bonds within her home.
"We're a pretty close family," she said. "We've been through a lot — when my dad had to be deployed, it was just me, my mom and my sisters, so obviously the three or four of us became close, and when [my dad's] here, it's even better. We share everything with each other."