FIFtH WALL
Improv comedy group kicks off its season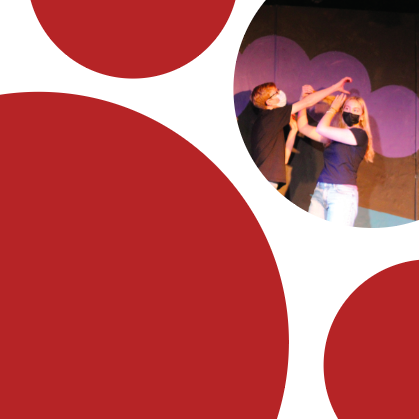 For the uninitiated, Fifth Wall is Blue Valley's improvisational comedy group. Every year, theater students go through a day of auditions in hopes of being selected to join the troupe.
Ultimately, the auditioners are whittled down to a team of 15 people. Students have to be in the Repertory Theatre class in order to audition.
Senior Joey Compton is now in his third year as a part of Fifth Wall; he joined as a member his sophomore year.
"Fifth Wall consists of two 'improvadors' [who are team leaders], one senior and one junior," Compton said. "The improvadors this year are me and [junior] Cannon Simpson. We have 10 players who perform in games, and three emcees who run the games for a total of 15 people."
The membership of the group is very volatile, Compton said. Because of the amount of people who try out every year, it is not always guaranteed someone will be in the group two years in a row.
"I had no idea what the team would look like this year — we had 12 seniors last year so we had a huge gap to fill," he said. "The school has always delivered, and this year we have an incredibly strong team that I want to show off as much as possible."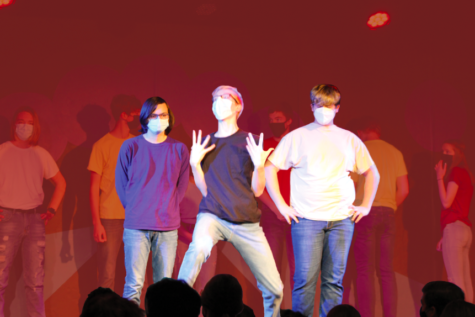 Among those new members are sophomore Grant Kozisek and junior Ben Samuelson. Both of them have quickly adjusted to the environment of Fifth Wall.
"It is a really fun place," Kozisek said. "You get to have fun cracking jokes and making others laugh while you make up everything as you go."
Fifth Wall has been a very welcoming environment every year, and this time around was no exception. The group has learned to work together and bring their best to every practice or performance.
"The people I get to work with are fun because none of us are butting heads with each other — we know how to have a good time," Samuelson said. "I knew I wanted to be on the team [because] I had gone to their shows before and I enjoyed them."
In a normal year, it is a challenge for each Fifth Wall group to get used to performing together and being in sync with each other. But for the last two years, the coronavirus has made that even more challenging.
"COVID has been incredibly difficult on how we perform — your mouth is such a big part of comedic acting, and we lose all of that with masks," Compton said. "We've got to make sure our players, and especially our audience, are comfortable."
Fifth Wall's first show was on Sept. 24 in the PAC during Tiger Paws.
"I thought the first show went great," Samuelson said. "I wasn't expecting to see so many people show up — it was exciting. Obviously, the games were a little short due to our short time frame. It was an awesome feeling, and I'm looking forward to more shows this year."
The team is excited for the season ahead and looks forward to the next show in December.
"My favorite part is getting to perform for others," Kozisek said. "I enjoy being on stage, and Fifth Wall allows for us to do that often without having the stress of months of prep."
Despite the differences between this year and a normal year, the team is adamant to bring their A-game to every performance and be as funny and entertaining as possible.
"We won't be competing at State this year due to COVID complications, which is a big disappointment," Compton said. "I'm [still] determined to give the team a good year and a good time."