Sidelined
Complications in athletics prove challenging in the lives of competitors
Injury — something every athlete hopes to never witness, let alone experience firsthand.
The human body, though capable of many athletic feats, can only handle so much stress, strain, and impact, and when its threshold is exceeded, the consequences and potential injuries that result can be severe.
Whether from overuse or acute trauma, injuries in high school and competitive sports have risen recently, with ACL tears increasing 148% among 14 to 18-year-olds in the last 10 years according to the American Academy of Pediatrics.
Statistics like this don't encompass the frequently long recovery processes through which injured athletes must go, which are only made more difficult through the less often discussed mental challenges that come with sitting out.
In these stories, we take a look at both the physical and mental impacts athletic injuries and other ailments have had on BV athletes while they were and/or are sidelined.
The Strain of Stress
Exercise is known for its health benefits, both mental and physical — but can all that pressure to push one's body actually be doing more harm than good?
The strain created from repeated athletic activities can lead to adverse health effects, and not all of this harm is visible. Athletes participating in high-intensity sports are at a greater risk for mental health issues, including burn-out, stress and low-self esteem.
Stress is one of the greatest factors affecting student athletes' performances. Academic challenges, lack of time and home-life all contribute to increased stress levels. Trying to excel in both the classroom and field increases the mental demand of students, taking a toll on their well-being. Students exercising under chronic stress are more likely to succumb to injury. All these external pressures and expectations increase among injured athletes, creating an endless cycle.
A study by the National Athletic Trainers' Association found that student athletes report higher levels of negative emotional states than non-athletic adolescents. Built up pressure to refine skills leads to increased practice, adding strain to the body and allowing less time for recovery. The escalating intensity in youth sports creates the perfect environment for overuse, burnout, and career-ending injuries. Studies have shown a linear relationship between the amount of time students spend practicing and incidences of extreme injuries. 62% of injuries in youth sports occur during practice, not games.
The risk of career-ending injuries is only growing. Early specialization, or the year-round focus on one activity from a young age, leads to the overuse of muscles. The risk of injury caused by overuse is especially high in this type of training. When a particular action or movement is repeated over and over, the area of the body used to complete that motion is not permitted the necessary recovery time for healing.
Studies suggest athletes who were forced to specialize in a specific sport at an early age are more likely to quit due to injury or burnout in their later years. One study conducted on groups of swimmers found those who specialized sooner than their teammates spent less time on national teams and retired far earlier. Youth specialization also correlates with reports of decreased general and psychological well-being.
Student athletes are told from a young age to push through physical obstacles and not show signs of weakness in order to improve, but when students apply this philosophy to their mental health struggles, the outcome is often damaging.
Students and coaches need to understand that physical clearance to return to the field does not correlate to the
psychological readiness needed to perform.
Time to Recover
Being in peak physical condition is one of the most important things for any athlete. They're required to be constantly moving in order to make a play or score some points, but sports can also bring along a variety of injuries that hinder these athletes from playing in the next game.
During senior Zak Svendsen's first football game of the season, he had an unfortunate collision with one of his teammates, leaving his middle and ring finger metacarpals broken. Due to the severity of the injury, he had to take a break from football. While he is now fully recovered,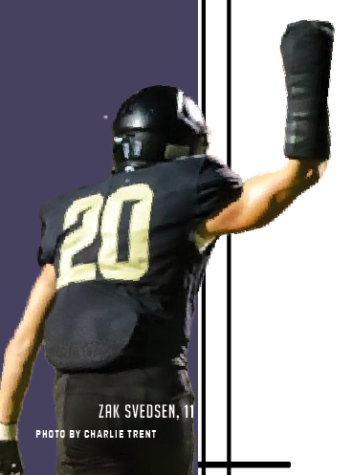 daily life was made difficult throughout the return process.
"When it first happened, I couldn't do schoolwork — I couldn't write [and] I had to type everything," Svendsen said. "With football, I couldn't practice. I had to stand on the sideline and watch all my teammates practice."
While Svendsen's injury is in the past, junior Connelly Kilgore is still dealing with her torn ACL and meniscus.
"I am going to be out of playing volleyball for 9 to 12 months," Kilgore said. "[Recovery is] kind of gradual. I'll get back to walking and then running again. Then down the road is actually playing volleyball."
After Svendsen's hand was mostly healed, he was able to play football once again. To protect his hand while playing, he wore a club until the injury fully healed, making tackling and other parts of football difficult.
"I had to wear the cast the doctor's office gave me, and then [trainer] Caitlin [Truhe] cut a piece of foam that would wrap around and then she used bandages to wrap it around my fingers and all the way up my forearm," Svendsen said. "It's protecting [my hand,] so I can't hurt it and it looks like a nub."
During the healing process, both players were required to attend practices despite not being able to play. While on the bench, Kilgore kept stats for her team and encouraged them during games.
"It's hard to go from playing to just watching, but it's good to watch my team and support them," Kilgore said. "I've realized you shouldn't take things for granted. I think I kind of took for granted volleyball and the small things like working out or walking normally."
Without one person, the team can seem unbalanced or incomplete. For Svendsen, sitting on the sidelines was difficult since he watched his team continue playing without him.
"Every day during practice sucks, but then not being able to do it anymore, definitely sucks," Svendsen said. "Don't take practice and the bond you share with your teammates for granted."
Out for the Season
Senior AJ Diederich is an inside linebacker on the varsity football team. He was playing the season-opener against Blue Valley Northwest when he suffered the injury of a torn ACL and a medial meniscus.
"I was running up to tackle the quarterback and when I pivoted, my whole knee just blew out," Diederich said. "I fell to the ground."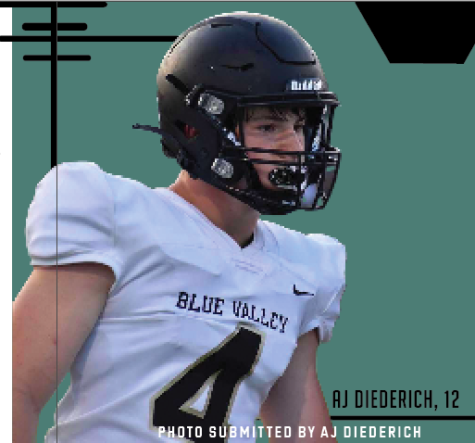 That play prevented Diederich from participating for the rest of the game and forced him to head to the doctor where he received the news that he wouldn't be able to play football for the rest of the season.
"It felt really messed up [because] nothing like that ever happened, so I didn't know how bad it was going to be," he said. "When they told me it was my ACL, [I] pretty much knew I wasn't going to be able to play anymore."
Even though Diederich isn't able to play the rest of the year, he was still happy to know that he made the varsity team but continues to be disappointed that he can't compete.
"It was nice, at least being able to know that I would have been starting since I did the first game," he said. "It obviously sucks knowing that you worked really hard for something and then it got taken away in one half of a play."
After his incident, Diederich's next course of action was to start recovering physically and mentally, which first involved an operation.
"After surgery, the first week was rough because they opened up my whole knee and put screws in there," Diederich said. "It was pretty painful, [and] it still lingers now, but it's a lot better than it was."
Before this, Diederich was even planning on continuing his career as an inside linebacker in college but is now questioning this decision.
"I was thinking about it while I was playing, but now this happened and [playing in college is] probably not going to [happen]," he said. "It's pretty hard to get recruited when you don't have anything to show."
Even though Diederich can't actively be on the field helping run successful plays, he will be on the sidelines cheering on his friends, supporting them throughout the rest of the season.
"I wasn't able to go to the past few games because of my surgery, but I'll be at the rest of the games the rest of the season supporting," he said.
Though recovering has been hard for Diederich so far, mentally recovering seems to be the biggest challenge he faces right now.
"I'd say it's probably been more tough mentally — [it's] pretty much all you can think about because you're on crutches all the time," he said. "When you see everyone playing games [and think] you should be playing because you envisioned it. It's definitely been harder mentally, but it's something that I can get through."
Expert's Opinion
As sports-related injuries continue to grow in prevalence, Blue Valley Athletic Trainer Caitlin Truhe witnesses firsthand the daily activities and trials of affected athletes.
"Depending on the day, I see anywhere between 20 to 50 kids," she said. "It depends on if there were a lot of activities over the weekend [or] just how injury-prevalent a game was."
According to Truhe, one reason for the jump in the volume of sports injuries of teenage athletes in recent years can be traced back further than some may assume.
"Younger kids are spending a lot more time inside on video games or anything electronic — and spending more time inside decreases all of the vitamins and minerals you can get from being outside, like vitamin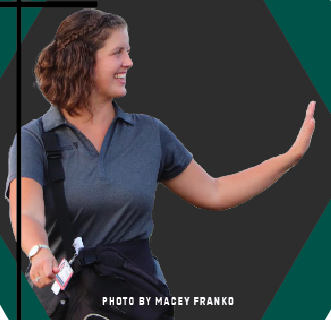 D," she said. "The lower you are in your nutrients and vitamins, [the more you] increase your risk of injury."
Along with working closely at hand with the front office staff and treating students during and after school, Truhe is responsible for ensuring athletes injured while competing receive proper care from the moment they indicate they've been hurt.
"When someone gets injured in a game, first thing, obviously we're running out onto the scene," she said. "If I see an athlete down, I'm assessing, 'Are they moving? Are they walking? Are they sitting? Are they laying down? What is their reaction? Are they crying? Are they yelling in pain?' and all those kinds of things."
After gathering an initial impression of the extent of an athlete's injury, Truhe conducts an "on-field assessment" to determine whether or not the player in question can return. If the injury is moderate or even severe, treatment such as ice, tape or crutches may be used, but Truhe said this process can be avoided for some by following a couple simple prevention steps.
"Making sure your hydration and your nutrition statuses are good [is important to helping you avoid injuries]," she said. "I always promote performance training, whether that's doing a weightlifting class here at the school or doing something outside of school, and making sure you're lifting and training to be an athlete in general, not just a volleyball player [for example]."
In the event that an athlete does suffer an injury, though, Truhe stressed the importance of personal accountability throughout the return process.
"Taking ownership and doing all of the exercises you're told [to do] from me, a physical therapist or your doctor [helps your recovery go faster and be more effective]," she said. "Every exercise is important — no matter how weird you feel doing it or if you really don't like it. The one you dislike the most is probably the one that helps you the most."
Truhe pointed out that although trainers, coaches and other professionals can be helpful guides, much of injury rehab is intuitive.
"Listening to your body [is essential during recovery]," she said. "If you've been icing your injury and you feel really stiff, or it feels like the ice isn't helping anymore, then you don't need to do something that isn't helping you. [Don't be] afraid to change what you're doing based on how you're feeling and how you're reacting to those exercises."
For injured athletes struggling with the mental aspect of being out of the game, Truhe spoke against trying to get through the process alone.
"Talk about it," she said. "Whether it's with your coach, your athletic trainer or whoever, talk about struggles you're having — letting them out and acknowledging them helps you to move forward."
Isolating yourself during recovery, Truhe reiterated, can rob you of an abundance of support.
"Remaining close to your team is so important," she said. "Coming back to practice, even though it's hard, and being surrounded by your friends matters because even though you're not on the field or court or wherever, and that will sting a little bit, your community is so important. Your friends are still there — they're going to support you. We want to see you there."
Recovering Athletes
The year 2020 changed the lives of many people, but the lives of two student athletes were changed in a different way.
Seniors Kenzie Hammontree and Anna Borcherding both tore their ACLs playing soccer.
"I was dribbling the ball and this girl came at my knee from the side and completely went for my body instead of going for the ball," Hammontree said. "I immediately dropped to the ground and grabbed my knee. It was not painful, but it was a really weird feeling. I felt like my knee was completely twisted 360 [degrees] and then went back."
Both soccer players endured about six months of following recovery guidelines and pep talks from their physical therapists.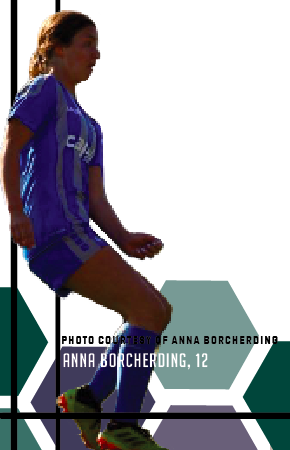 "[The recovery process] was definitely challenging at times, but I was pushed and motivated," Borcherding said. "I went to physical therapy three times a week and also had exercises to do on my own. I would check back in with my surgeon every few weeks. They would give me updates on when I can start running, when I can start with contact [and when] I could be cleared for going back onto the field."
Even though the injury was hard on both of them, there were memorable moments throughout the experience.
"Right after my surgery, all my friends came over to my house and surprised me and brought gifts," Hammontree said. "I was basically in bed for a week straight icing my leg, and I wasn't mobile at all. It was really nice of them to visit."
After the injury, the girls were ready to go back to their sport. With the support of others, Borcherding said coming back was easy and exciting.
"I was welcomed by so many people out on the field because it was during high school season and a lot of people were cheering me on to get back as soon as possible," Borcherding said. "I realized how much I miss playing the sport and how much I enjoy running around on the field."
Every now and then, the athletes will ice their injuries or take precautions, but they are both fully recovered. Hammontree wants others with this injury to follow the rules provided by doctors to have a safe and fast recovery.
"Really appreciate the sport you're playing because you never know when something like that could happen," Hammontree said. "It takes a long time, and it's a lot of work to overcome this injury, so enjoy and take advantage of the things you have."
Borcherding said she came back stronger than ever after the injury and is thankful for the experience.
"I thought I would never be 100% the same player as I used to be. But playing now, I've realized that I was able to overcome that challenge," Borcherding said. "It definitely made me realize I can overcome any struggle that is thrown at me."
COVID Cancellations
Though the peak of the pandemic has arguably passed, COVID-19 still affects our day-to-day lives. This rings especially true for sophomore Grace Wagers, who tested positive for the coronavirus not long before the girls' volleyball season officially started.
"It was definitely an emotional and physical challenge," Wagers said. "I had head congestion, fever, sore throat [and] body aches. I was really tired."
Wagers had to stay home due to her illness, but it also led to other cancellations.
"I was supposed to be in a wedding that weekend after I tested positive," Wagers said. "When I tested positive, I ended up exposing the whole wedding party, and they ended up having to cancel the wedding."
Wagers' volleyball team had to isolate themselves as well due to exposure.
"They were only quarantined about a week, I believe," Wagers said. "We ended up missing a triangular game, and I ended up missing a dual versus Northwest and Aquinas,"
Even though Wagers couldn't attend practices, her teammates made sure to let her know that they missed her too.
"I had girls on the team texting me every day just checking in with me, seeing how I was feeling, asking me if they could bring me anything from the school or if there [was] anything I needed in general," Wagers said. "Everybody was super helpful and super patient."
As the team continued practicing, Wagers began working on getting back on the court.
"I had a couple meetings with our athletic trainer, and I ended up seeing a doctor to get cleared," she said. "She went in and did a couple of basic routine things and told me I was good to go."
A doctor's note wouldn't make Wagers ready to play again, however. She also had to readjust after her time off.
"When I was back in school, I started each day with a little bit of time attending our practice," she said. "First it was 15 minutes, and then it went to 30, 45 and then 60 minutes, and then the day after that, [I] was fully cleared. [COVID] took a toll on my body, and it was just a safety precaution when coming back in."
After such an ordeal, Wagers was glad to be able to finish the season.
"I [have] very much learned to appreciate the time I have on the court with my team and the things I'm able to do in life," she said. "It's a blessing — my time with my team and on the court. I've become very appreciative of all of it."