All Suited Up
Senior performs as Tiger mascot at dance team State competition
As the Blue Valley Tigerette dance team prepared for the first-ever in-person Kansas Gameday State competition, they decided to incorporate a unique element into the routine: a mascot.
After deliberation between coaches and captains, senior Sarah Gravitt recommended senior Jenna Demmel as the perfect candidate for the job.
"Sarah told [head coach] Katie Burris I would be good at the Tiger, so she texted me asking if I'd be interested," Demmel said. "I said absolutely I would."
As the mascot, Demmel would be responsible for engaging with the audience for the first portion of the routine. At the end of the band dance portion of the routine, Demmel was choreographed to run through the dancers and hit a pose.
"I think it added a good amount of spice to the routine," Demmel said.
In order to prepare, Demmel attended several morning practices with the team, which began promptly at 6:30 A.M.
"I didn't realize how early they get up," Demmel said. "Their warm-up takes so long and I did it with them a couple times. I'm not that flexible — I thought I was, but I am not the way they [are]. Everything is so precise, like how much detail they put into every single movement, down to foot and had direction."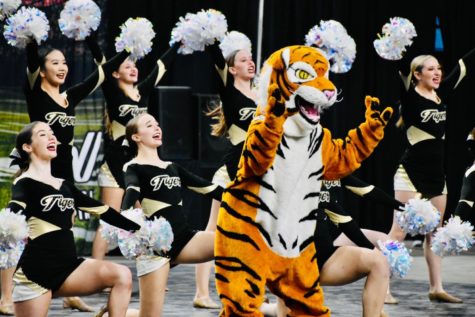 As the Tigerettes departed for Topeka together on Friday, Nov. 19, Demmel was included in the early morning festivities. The team's bus was adorned with cut-out tiger paws, each one with a girl's name on it.
"The moms decorated the bus and put my name on [a paw], which made me feel a part of the team," Demmel said.
Once the girls reached the event center where they would be competing, Demmel experienced a definite shift in energy once it was time for the group to ready themselves for the task at hand. 
"When we were there, everyone had so much fun but knew it was time to focus when we were getting ready," Demmel said. "It was a real competitive environment, and I love that feeling."
Being an athlete herself, Demmel felt at home in the environment and enjoyed the energy of the event and the teams in attendance.
"I love competing, and I wasn't expecting to feel like I was at a Crossfit competition but it really felt like that with the adrenaline and everyone in the zone," Demmel said. "It wasn't what I expected, but in a good way."
In the 6A category, the Tigerettes and five other dance teams were selected from a total of 14 teams to advance from the preliminary round to the final round. Demmel was sure to leave everything on the floor and give it her all.
"Performing felt a little nerve-racking because I didn't want any more costume malfunctions, but other than that it was so much fun," Demmel said. "I just made sure to be outgoing with it because no one in the audience knew who I was — I was like, 'Well, go big or go home.'"