All-Around Athletes
BV students discuss playing multiple sports
Taking on the effort of being a multisport athlete provides the opportunity to enhance one's athletic performances, and senior Andrew Long and junior Tiana Simmons are always up for the challenge.
Being a multisport athlete comes with many benefits. Skills obtained from one sport can be applied to another sport, improve an athlete's overall performance and limit the occurrence of overuse injuries.
According to Sanford Health, multisport athletes are more likely to be active as adults and preserve their love for sports due to the absence of intense emphasis on a single sport.
Long participates in three sports for BV: football, bowling and track.
"Football is my main sport, but I do three because there's many skills in track that help with my football, and I want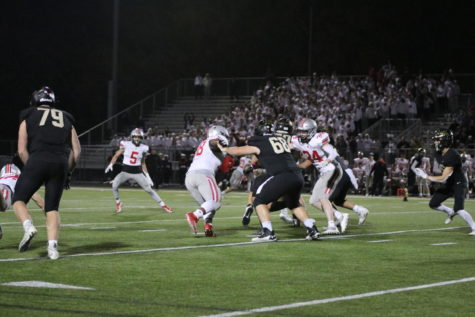 to play football in college," Long said. "The [other] sports I do are just to get better at football."
For Long, being a multisport athlete is all about improving his athletic ability.
"So many skills overlap in different sports," he said. "So, when I'm not practicing football and I'm doing track, I'm still getting better at football during the off-season — it's a lot of help."
After the Tiger football season came to an end in early November, Long started his preparations for bowling and track.
"It's sad that [football] ended, but I'm glad it ended with that group of guys — we are so close and everything," Long said. "I [took] a few weeks off to get ready for track and bowling, do some lifting during the off-season and just prepare for my next sport."
Simmons, another triple-sport athlete, takes part in volleyball, basketball and finally, track and field.
"I'm a middle hitter/blocker [in volleyball]," Simmons said. "I play basketball, and I'm a shooting guard. In track, I do high jump, long jump, triple jump and relays."
Athletics is an escape from life for Simmons.
"I don't know what I would do without playing sports," she said. "I enjoy always being in season."
Simmons believes the biggest advantage she gains from tripling up on sports is having many different teammates. Being able to make new friends and having coaches she can rely on make up for the time-crunch that comes with being a multisport athlete.
"You just get really busy, and sometimes you can fall behind, in school especially," she said. "I also do club volleyball during basketball season, so it's hard to do two sports at once."
As basketball season kicks off, Simmons is getting much-needed rest, in addition to hitting up the gym to stay in condition.
The ups and downs of being stellar athletes help Long and Simmons continue to better themselves through the earned skills and friendships that come with being multisport athletes.
"I definitely want to say if you're not doing a sport, just try to do a sport," Simmons said. "It's really a good way to be involved and make new friends."