Sugarplum Dreams
BV student participates in local nutcracker showcase
Some would say dance is the best form of self expression.
Junior Audrey Che has been a dancer since she was 2 years old.
Che participates in many genres of dance.
"I do ballet, jazz and contemporary with my studio," she said. "It's different from the dance team dance, which I do here. [Dance team does] jazz, hip-hop and pom. I also do traditional Chinese dance with my Chinese dance group."
Although she enjoys other genres of dance, ballet is Che's favorite. This year will make it six years that she has been involved in the Nutcracker.
"We usually have [rehearsals] from 1-4 p.m. — we start with a cast meeting [where our instructor] will talk about things like costuming," she said. "Then we'll go our separate ways. We will run some variations and some parts of the show. Then we will end with a full run through of the whole show."
Che portrayed two characters in this year's show.
"I'm the Sugar Plum Fairy and also a sugar sheep, which is my fun role," she said.
Che, however, does have a personal favorite number in the ballet.
"I really like the party scene — that is the opener of the show," she said. "It's fun. There's so much character in it, and there's so much interaction. I am sad I don't get to be in it anymore because I aged out of a lot of the party characters."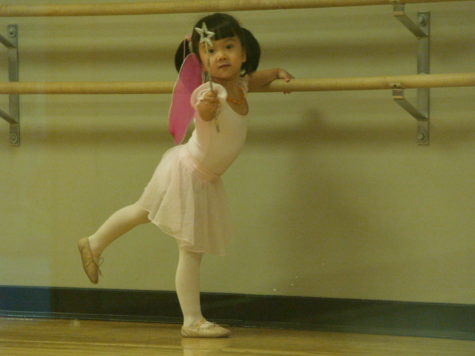 Che gave some insight to backstage life during the show.
"It's pretty chaotic — I'm not going to lie," she said. "Our dressing rooms aren't that big. I remember the tables used to be broken. Everyone is crammed backstage, and there are quick changes. Costume parts are everywhere."
Though she has participated in the commotion in the past, her position provided an escape.
"The lead role gets a separate dressing room, so [I was] separated from the chaos this year," she said.
Che spends most of her free time perfecting her routines.
"I'm dancing seven days a week right now," she said. "At least three days are for dance team or Chinese dance — some days are jazz."
Dance plays a major role in Che's life.
"I've been [dancing] for 14 years," she said. "It's a way for me to meet new people and be with my friends. The Nutcracker has always been a big part of the holiday season for me. [It's] always a lot of fun."