Step Sibling Struggles
Students share experiences in blended family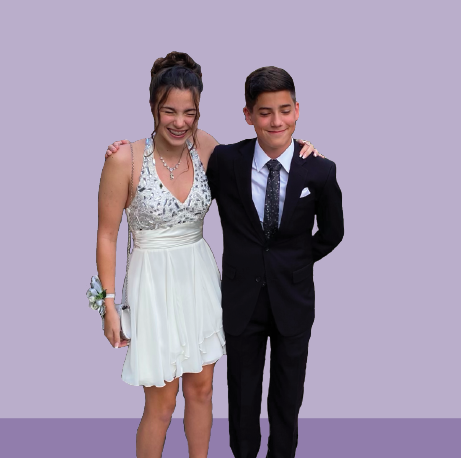 Becoming a member of a blended family isn't always an easy transition. Sophomores Julia Kingsbury and Liam McKinney each have their own take on gaining a new brother or sister.
Kingsbury and McKinney had known each other for three years before their parents got married.
"Me and Liam didn't go to school together until seventh grade, the year our parents got married, and we all moved in together," Kingsbury said.
Two families becoming one is not always easy for the children involved, especially when it comes to household rules.
"I learned more patience and a lot of other lessons," McKinney said.
McKinney and Kingsbury had different views on how much rules changed since many were already similar.
"[They would say] not a lot of junk food, a lot more sharing [and you wouldn't be] able to defend yourself if a younger sibling attacks you," McKinney said.
When it comes to the people one lives with, it is important to not only feel comfortable with them but also enjoy their presence.
"At first, we were easily annoyed with one another due to not being used to being around the other person," Kingsbury said. "I love my family and think we all adjusted to living together really well."
With a new family also comes shared traditions.
"My mom, sisters and I have always done breakfast in bed on your birthday, which we have continued and is now a house tradition," Kingsbury said.
When adjusting to a new family, it is important to have practices daily to become more familiar with one another.
"We share our 'High-Low-High' at dinner," McKinney said. "We all sit down for dinner together and share a good part of our day, a bad part of our day, and then end it with another high point."
There are more people going through a blended family situation than one might think.
"Be open-minded to do new things, and be ready to have it be the norm," McKinney said. "Being patient and remembering what matters is important. Gaining a new stepfamily and moving can be stressful, but it's important to remember it takes time to adjust. Being patient helps make the process easier."
For those who have gone through or are going through family changes, it is important to remember you are not alone.
"I would advise looking at your new family as one big family instead of two different families in one house," Kingsbury said. "Communicate and be flexible. Remember both families have been raised differently up until that point, so you're not always going to agree on everything."