Breakin' It Down for B-Ball
Business teacher's victory dance circulates after game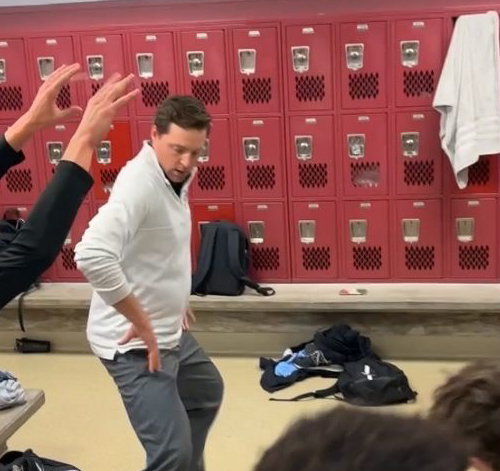 On March 2, 2022, the BV Boys Varsity basketball team won a high-stakes basketball game against Blue Valley West, later leading to a celebration in the locker room with both the players and their coach, Dwight Williams.
"We had a big win," Williams said. "We just beat the number two team in the state. Our season was on the line. We lose, we go home."
The locker room celebration consisted of blasted rap music — "Sum 2 Prove" by Lil Baby, to be specific — from the players and, from their coach, a victory dance that he later realized had been seen by many across the school.
"I didn't know I was being recorded," Williams said. "I don't dance after every game but if it's a big win, I might break out the dancing shoes."
Initially, Williams discovered that the video had been posted online of himself, but requested to have it removed.
"I always get on Twitter after the games — I saw the initial tweet, which was labeled as very inappropriate," he said. "I wasn't upset with the video being taken. I was upset with what was put at the top because it was inappropriate. 
Williams is aware of who allowed the clip to circulate, but has remained lighthearted throughout the situation.
"The person that recorded it sent it out to the entire world — the entire universe," Williams said. "I'm not upset about the video. [I'm] just being myself."
Because there's no ethical conflict portrayed in the video, Williams has remained mostly unfazed by the situation.
"I have 1,000% confidence in myself and our staff," Williams said. "We don't do anything wrong behind the scenes with our kids. I think we treat our kids with class."
In the days following the video's circulation, Williams received many humorous comments related to his performance.
"Teachers would pass me in the hallway and say 'good dance moves,'" Williams said. "Kids would show me the video. I'm like 'I've already seen it.' My wife saw it on Twitter, so she screen recorded it. She sent it out to everyone. The whole world got a hold of it within 10 minutes. I had friends texting me and I was like 'How did you get those videos?'"
Though many teachers might have been embarrassed in such an event, building substitute Niki Neal believes that the video was beneficial for Williams.
"She just said that a lot of students are scared of me," Williams said. "I have a grumpy scowl on my face at all times. [The video] showed me in a different light."
Despite this supposed change in image, Williams believes the original, negative perception of him never existed.
"There's no reason to be scared of me,"Williams said. "I'm a fun person. A fun guy."
Overall, though the video was no concern to Williams, he wished it had put more focus onto the players themselves.
"Those players are my family," Williams said. "They love me and that was just a part of us celebrating a big moment and part of our season, but I'd rather the attention be on the kids. They're the ones that deserve it. Not me."