Who We Were Together
Senior reflects on when friend groups fall apart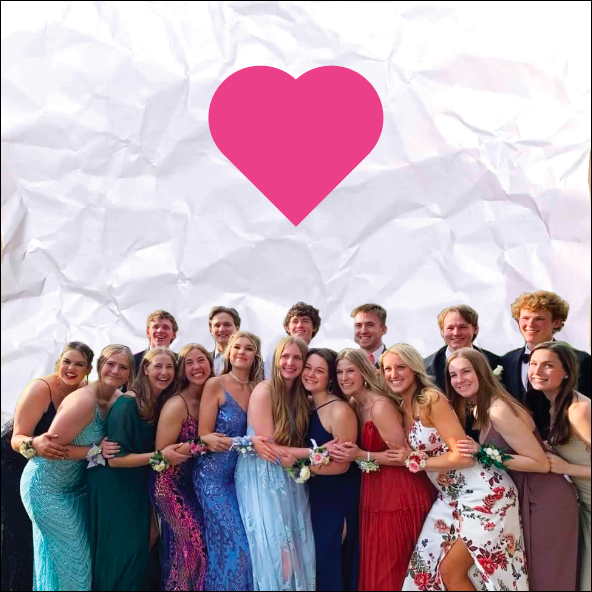 Throughout the course of anyone's high school career, it is almost impossible to avoid getting involved in some kind of drama between friends or friend groups. By the time you are a senior, it has become a common experience that most people have been through.
Similarly, senior Emma Niederhauser is no stranger to these dramatic situations.
"I had a friend group freshman year, and I had transferred from another school so I didn't go to middle school or elementary school with anybody," she said. "I was meeting new people and I was like, 'These are going to be my people because I don't have anyone else to go off of.' We would eat lunch together and hang out."
Despite the positive way her freshman friend group started, Niederhauser said things soon went south.
"Everybody started fighting and people would disagree about relationships; there were multiple friends I had that were in relationships that other people would talk [badly] about behind their backs. No one was getting along, there were different text message threads, one without this person or without this person," she said. "[It was] super messy, and we all ended up fighting so much. There were multiple instances that made me feel really bad about myself, so I was like, 'You know what, I'm done.' Then I wasn't friends with those people anymore, and I found other friends."
Since then, Niederhauser has tried her best to stay away from any sort of drama, with varying degrees of success.
"I wouldn't say I've steered clear, but there's nothing that's pressing," Niederhauser said. "There hasn't been anything that has made my friend groups now split or really talk bad behind people's backs. My friends now [act] more like adults and can handle the conflict."
Niederhauser also expressed how she has benefited from not being completely tied down to one friend group. 
"Since freshman year, I've become a floater," she said. "I have a bunch of different friend groups — I have my yearbook people, I have my choir people and then I have just people in classes that I'm friends with. I don't have one main group, and I think that's helped."
As people change throughout high school, it often puts strain on or ends the friendships they had. Niederhauser has more of a neutral attitude toward most of the people she used to be friends with.
"[We had] cut ties for a while, and I think because of Covid, everyone went through a lot of change [in] mentality. Now I can talk to them and forget about [what happened]," Niederhauser said. "I think everyone is still figuring out who they are as a freshman. How you act and how you are toward your friends can be really difficult, so I don't have any hard feelings toward them anymore. If they ever needed anything, I would be there for them, but I wouldn't say we're necessarily friends."
Condensing her experiences with friend group mechanics and theatrics, Niederhauser offered advice to anyone going through situations similar to her own.
"Your friends are going to change in high school no matter what — everybody changes," she said. "Don't hold on to it — it's really not worth it. We were freshmen. We were figuring out who we were. By the time you're a senior, everyone is so different. Let it go and focus on yourself, and you'll find your people eventually."