It's Corn
Student helps at farm during summertime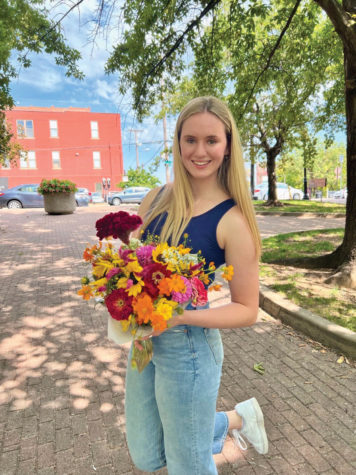 At 151st and Metcalf in front of Jersey Boyz, for about four weeks in the summer, you can find junior Grace Wagers selling her neighbor's corn.
"They grow corn and I sell it," Wagers said. "I primarily sell corn with their daughter. We've been neighbors as long as I've been alive, so she's a good friend of mine. I've worked with a few other people who fill in throughout the season as well." 
In sales positions, you can meet many types of people. That fact can be what turns some away from positions like it, but not Wagers. 
"My favorite part would definitely be interacting with different people — I really enjoy it," she said. "You talk to so many different people all day. It's different. It's exciting." 
Despite her love for the people she meets, she is not the biggest fan of how early she has to see them. 
"It's not as hot at 6 o'clock in the morning in July," she said. "But, the early mornings are the hardest part." 
Even though starting at daybreak may be difficult, Wagers loves this job. 
"Now they call me a saleswoman all the time because I try to talk people into buying more corn than they want to," she said. "My day is over when all the corn is sold, so you've got to be a good marketer." 
While she may be biased, she recommends farm work for others, thinking it not only gave her skills, but it could provide others with those same skills as well.
"It has taught me a lot about communication," she said. "You interact with so many different people. You learn a lot about the financial side of things and all the different aspects that go into it — it's a very cool experience."