Live Like Champions
Senior continues her Dad's legacy.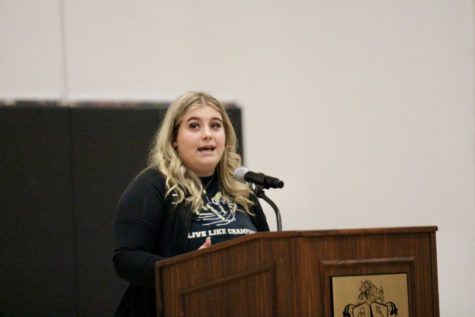 With his oldest daughter about to graduate, coach Eric Driskell continues to impact Blue Valley after leaving behind a legacy of kindness and humility.
   Throughout her journey at Blue Valley, senior Rachel Driskell, wants her fellow Tigers to live like champions. 
"I talked to a lot of administration, and we spoke about how a lot of the underclassmen don't truly know what it means to live like a champion," Rachel said. "I thought it would be really impactful for them to know who this guy was, the t-shirts they're wearing, the sign they see everywhere, and what it stood for."
As Rachel started high school, she was challenged by her dad's passing. She started missing school due to all the pictures and mentions of her dad. 
"I'm one of those people that hides things and pushes them under so I don't have to deal with them," she said. "Over the summer, I kind of dealt with those things, and I'm so much better."
After her freshman year, Rachel transferred to BV North for a fresh start.
"I knew people from North, so I thought I would fit in better there," she said. "At North, it felt like I would come to school and then go home. At Blue Valley, it's more of a community — I leave school with a smile on my face." 
Rachel decided to come back to BV for her senior year to honor her dad. 
"He always said he loves Blue Valley like a second home — maybe even his first," she said. "I wanted to graduate from here." 
Unlike at North, the BV environment feels more tight-knit to Rachel.
"I love the staff," she said. "They're like my family. I know I can turn to them if I need to." 
Coming back to BV, Rachel felt nervous that she wouldn't fit in. However, that wasn't the case.
"When I came here, I fell right back into how I was with my old friends, and then I made new friends," she said. "I feel like everything's the same and how it's supposed to be." 
As Rachel settles back in at BV, she finds new activities to be a part of. 
"I'm in choir and Tiger Pride," she said. "I wanted to be in Tiger Pride to get more involved because it is my senior year." 
Rachel continues to teach others to live like champions and further her dad's legacy.
"What most inspires me is to make my dad proud every day, and maybe be as half as good as he was," she said.