Practically Perfect
Seniors perform in Blue Valley musical
For many involved in Blue Valley's theater program, the annual musical is a chance to show off their acting and singing abilities. Seniors Cannon Simpson and Baylee Countryman were both cast for the musical this year: "Mary Poppins."
"I play Bert," Simpson said. "I am one of the four main leads in the show."
Countryman was cast in a supporting lead role.
"I play Winifred Banks," she said. "She was one of the characters I had always loved when I first watched 'Mary Poppins' as a kid."
Countryman spent a lot of time preparing for her role in the show.
"I took a few hours to just memorize Act 1," she said. "It [took] me a few more hours to get everything solidified."
Simpson also put in lots of time to make sure he was ready for his part.
"I have a more feasible amount of lines, but a lot of snippets of song and a lot of [choreography] to memorize," he said.
Throughout the process of preparing for the musical, both Countryman and Simpson grew fond of certain songs they had a part in.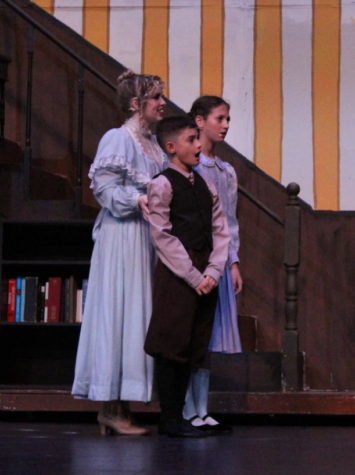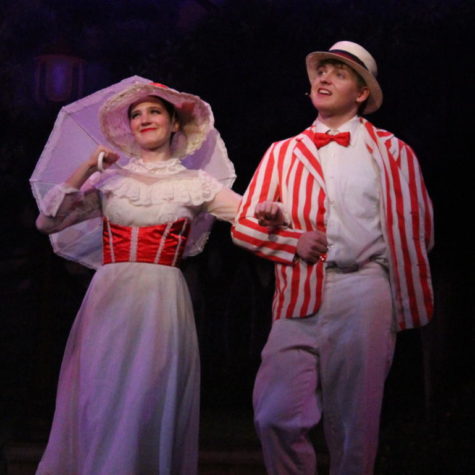 "'Supercalifragilisticexpialidocious' was super challenging to learn, but man is it fun," Simpson said. "It is super fast-paced and pretty funny as well."
Countryman's favorite song was centered on her character, Winifred Banks.
"I love singing 'Being Mrs. Banks' because it really shows how much she's struggling with trying to be a mom and trying to please her husband and keep him happy," she said. "She can't seem to get anything right, and she feels like she's a failure."
Both seniors had very different roles to play in the production that shone through in their memories from behind the scenes.
"I [enjoyed] getting to know the other people on a deeper level," Simpson said. "We had to bring some elementary kids in to play the child roles, so it has been nice to make them feel comfortable around us older kids."
Countryman's favorite memories were with her counterpart on stage, senior Ben Samuelson.
"Ben plays George Banks — we [took time to make] character choices because we have very grounding scenes for the musical," she said. "Mary Poppins and Bert are these imaginary magical people, and we're the reality of it all. You have to add some type of character choices to it."
For the cast, the show choice was nothing less than ideal.
"I'm very grateful [it was] 'Mary Poppins,'" Simpson said. "I had lots of fun, and it was received great by the audience."