Fly Fashion
Senior's style reflects trends from 80s'
Every decade has followed a certain pattern — it has a specific style and originality to it. Lately, fashion trends of the past have resurfaced, with teenagers following trends or lots of styles. 
Senior Cindy Ntembe is one of many teens influenced by a certain style, with her fashion being inspired by the '80s, but also connecting with who she is as a person.
"[My personality] can be super comfortable and outgoing because I do wear a lot of colors," she said. "I just started my job, and there are specific colors you can wear and black is one of the colors. I'm having a problem with that because most of the clothing that I wear is bright, colorful and mature, but I think that's fine right now. I'm only 17, so I can be more fun with my style."
Her inspiration comes from all over, but her biggest influence is her mom.
"My mom used to read a lot of magazines, so she has some magazines that she [had] before she moved from Cameroon," she said. "It was so interesting seeing fashion from around the world — I was really inspired by that."
Ntembe also finds her style with the help of the current culture of content creators. 
"I like how now you can find an influencer who's kind of like you," Ntembe said. "That's more personal than some celebrity that has like a billion dollars, you could find some other 17-year-old who likes the same things you do."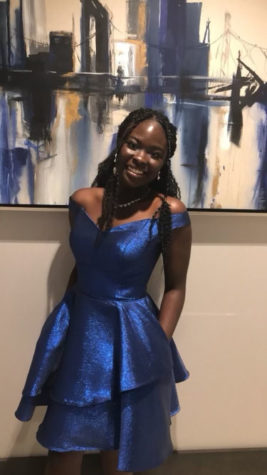 Other than inspiration from actress Diahann Carroll, one icon of the '80s particularly stands out to Ntembe.
"Princess Diana would wear biker shorts and sweatshirts," she said. "Whenever I'm out or around my house and I want to feel productive or even go workout, that's usually what I wear. I think a lot of sneakers are inspired by '80s fashion — a lot of workout wear is."
Accessories are an additional, yet important part of fashion to Ntembe.
"[Gold hoops] just add a little emphasis to your outfit, and I have a lot of pairs," she said. "If you need to be more professional, you can still wear gold hoops, or if it's something like a dance or a party — it's perfect for everything."
Because of her style choices, confidence is a big part of how Ntembe's able to go through with bolder outfit options, with help from her mom's inspiration.
"When we first moved to the U.S., [my mom] was really happy to try out American fashion, but she was still wearing traditional clothing every single day," she said. "There's something in Cameroon called a Kaba — it's this really long and colorful dress, but she wears it casually and feels confident. That's what I've really liked and it's been a way I've found confidence. Most people say you're born with [confidence] or you're not, and that's definitely not true.