Bonjour, BV
French exchange student attends school with senior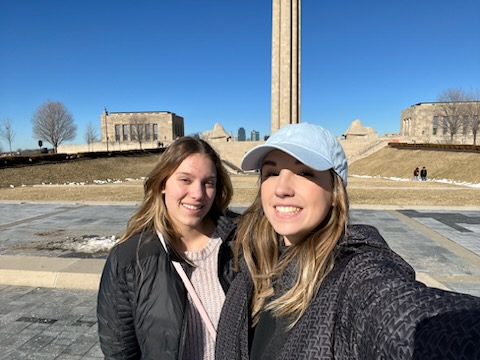 Traveling all the way from Valence, France, 16-year-old Lou Cissa joined the BV community for three weeks in January and February. Staying with senior Sophia Bade, she hoped to experience American culture and increase her English skills. 
The process for Bade began in mid-December after offered the opportunity through her French class.
"[I had to] go into the website and fill out a whole application — I sent information and pictures about my family," Bade said. "Then [French teacher Carol Bar] came to my house to make sure everything was fine and to interview me."
Bade has been taking French classes at BV since her sophomore year; however, she didn't use it around Cissa.
"I was told I am not supposed to, she's really here to improve her English," Bade said. "But obviously she can speak French in my French class."
Because Cissa was only here for three weeks, she shadowed Bade in all of her classes and had the ability to choose other students to shadow for a week if she wanted to experience a different schedule. 
"She doesn't have to do any schoolwork," Bade said. "She is just here to observe." 
Bade and her family prepared for this opportunity in many ways.
"We had to get her room ready and schedule some things," Bade said. "I wanted to take her to get some barbecue and go painting," she said. "We went ice skating, to a Chiefs game, drank Boba, went to Scheels — which she thought was really cool — and the Sweetheart dance and the Cheesecake Factory."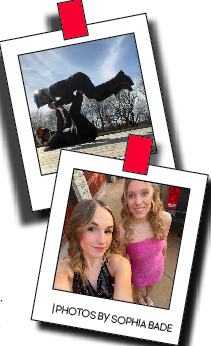 At the end of their journey, Bade and Cissa described how much their friendship grew and everything they experienced together. 
"We became best friends," Bade said. "I am going to miss her sassiness and being with her 24/7 and all the random stuff we get to do together."
Cissa felt the same way expressing how much she loves America, but more importantly her new friendship.
"[My favorite part is] being with Sophia all the time and sharing every moment of my day with her and her family," Cissa said. 
"I feel like we have learned a lot from each other," Bade said. "Like I learned a little French, and she learned a lot more English."
Cissa said she also gained some valuable life skills.
"I learned how to be more independent and made a lot more friends," Cissa said.
Hoping to see each other again, Cissa invited Bade to visit her in France this summer to continue their journey together.
"[I came] here because America is a really good country. I wanted to discover another country and another life," Cissa said. "[Sophia and I] became best friends — I am going to miss her."