Blue Ribbon Award Ceremony includes assembly, extended lunch to provide multiple types of celebration
Extras:
Photos from Friday's assembly
A video of Principal Scott Bacon and Teresa Schulte, Communication Arts teacher and Teacher Representative.
Friday, Nov. 16, Blue Valley held Blue Ribbon Celebration Day. The day started off with an assembly to celebrate receiving the Blue Ribbon Award. At the assembly, multiple speakers talked including state officials, national representatives and the Blue Valley Superintendent Tom Trig. The next component to the day was that students had a 45-minute lunch. During the lunch, students could hang out with their friends in the fixed forum, go on inflatables in the Auxiliary Gym, watch Fifth Wall perform in the Black Box Theater or watch a magician in the commons.
A Few Students shared their opinions on the day:
Senior Erica Lange:
"I think that Mr. Bacon is one of the biggest reasons we got the award because he is so motivational and determined. We have a wonderful school and I know we try really hard and that's what really counts and the Blue Ribbon was just a reflection of our hard work."
Sophomore Danny Waldron:
"What I got from it all was that being a Blue Ribbon school is pretty special and that it doesn't happen often. It sets sets Blue Valley apart from other schools."
Junior Aubrey Jeffries:
"The assembly with all of the speakers was really cool because we had some important people in the state and the nation recognize our award. The other activities during lunch were really entertaining and everyone could find something they wanted to do with their extra time at lunch. It was a really cool experience."
About the Contributor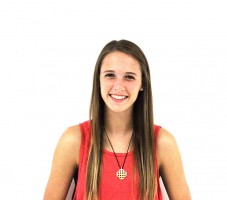 Hailey McEntee, Co-Editor
Senior Hailey McEntee is excited for her third year on the newspaper staff. As co-editor, she is looking forward to carrying on the legacy of her past...