Finally Being Recognized: Print journalism staffs publicly acknowledged for hard work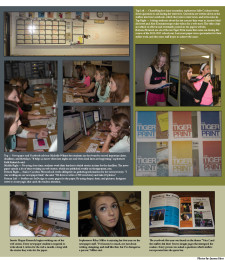 The Tiger Print is the critically acclaimed news publication of Blue Valley High School. For the past three years, it has been named an All Kansas Publication three times, has a State championship, is a two-time Pacemaker finalist and was awarded the prestigious national Pacemaker award for their 2011-2012 publications.
Junior Hailey McEntee is a 2 year staff member and was both the news and design editors this past year.
McEntee said she joined newspaper because her sister was on staff.
"She loved it, so I thought I would try it out," she said. "So I did, and now I'm really glad I decided to join newspaper because I love it and all the friends I've made along the way."
Although she enjoyed this year, she said there were some things she would have liked to see change before the year was over.
"I think I would want to change the web policies because this year it wasn't communicated very well to us," McEntee said. "So we just need to come up with something and keep it that way the whole year without changing it up all the time."
She said another problem with this year was focusing in class.
"I feel like the biggest challenge was getting stuff done in class because we all just wanted to be social all the time," McEntee said. You can't always be social, you have to get down to business. The guys were also very distracting, but they were great."
One of those guys was first-time staffer senior Colin Gregory.
He joined staff because his mom and AVID teacher encouraged him to take the class for his senior year.
Overall, Gregory said he enjoyed the class, although there were a few things he wasn't too fond off.
"Well, I feel like the grading system was widely inconsistent," he said. "It should have been based off of what we did for the actual paper and the quality of the work we did. Instead, it was mostly pointless web assignments."
However, Gregory said he enjoyed the social aspect of the class and having the opportunity to make his opinion known.
His favorite opinion was the gun control piece he wrote after the Newtown school shooting. It was the first thing he had written without being asked.
"There were a lot of nice things that people had to say, but there were some less than flattering stuff," Gregory said. "For instance, one Twitter user decided to call me out, calling my article ignorant. So that was nice."
Sophomore Riley Miller said she had no reason for joining staff this year.
"I had no idea what it was going to be like," she said. "I just figured I would try it because I wasn't really involved my freshman year. I'm happy I did end up joining, though."
Although procrastination proved to be her enemy this year, Miller plans to return to the staff next year.
"This year was my first year on staff," she said. "I've learned so much, not just about writing, designing, and stuff like that, but I've changed as a person. I've learned how important it is to be confident and reliable. I've made new friends and I've branched out more than I ever have, and, although I've wanted to bang my head against a wall sometimes, I still feel I have a lot to learn and a lot more to bring to the paper."
Next year, there is a possibility that the format of the newspaper could change drastically.
"Instead of the normal paper, we are looking into having a magazine format for it," McEntee said. "It will be in all color, which is a big leap from this year which was in basically all black and white. It's also going to be longer — most of the issues will be 32 pages instead of the usual 24. Since it's longer, we will have longer cycles, so there will only be seven issues per year instead of ten.
McEntee, who will be an editor-in-chief next year, said she is very anxious and excited for the changes.
"I love designing," she said. "So having all color will be a lot of fun. I'm also excited about the new magazine format because I feel like it'll be something different and it will draw in more readers."
—
Receiving numerous awards for their excellence, Blue Valley's yearbook has proved its dedication, creativity, and talent. This year's yearbook, Reflections, was a great example of what a dedicated staff and strong leadership can produce.
Senior Katie Overman said she decided to join yearbook because she really enjoyed Journalism and liked the way Chittum ran her program.
"I just fell in love with designing and the way we use colors and different fonts to get our points across," she said. "I also really liked writing and it was really cool that I could use writing as a creative outlook. "
Overman was the senior ads editor this past year and she said being on the yearbook staff made such an impact on her high school experience.
"For the most part it's been a really amazing experience and I've just grown so close with the girls on staff and it just changed my life," Overman said.
Both staffs got a new adviser this year, Michelle Wilmes, and Overman said at first she was nervous about this change, but it turned out to be for the better
"It definitely affected how we all worked together because in the end it was a very positive experience for all the girls involved."
Overman said the leadership this year in yearbook was great, and the staff would not have been as successful without it.
"The leadership was definitely a different style than leaders in the past," she said. "Nobody's perfect, and there's always going to be some issues that people will come across because not everyone works perfectly with each other but all in all I think we did an amazing book and that could not have been done without the leaders we had on staff."
Overman said she thinks the biggest difference between yearbook and newspaper is the added stress that comes along with the newspapers quick deadlines.
"The yearbook comes out once the whole year and we had three or four deadlines all year," she said. "The newspaper, they have such a quick turn around and they have deadlines every month. It's a totally different game because not only do they have actual publication but they're also writing stories for their online paper."
Overman had her editor's hour at the same time newspaper had their class, and she said she witnessed a lot more issues and people not getting along as well.
"There was a lot of disrespect from the editors to the staffers, and from the staffers to the editors," she said. "I don't feel like we had as much of that in yearbook. We did have some, and not everyone's perfect, but as a staff the yearbook probably got along better then the newspaper did."
Overman said she learned from the newspaper staff that every single person is entitled to their opinions and should be treated with respect.
"If you do not value the time they put into their work," she said, "it will create some disagreements and it will create unrest. You do not want your staff to be upset with you."
Junior Rachel Bergeson said she joined the yearbook staff because she knew a lot of older girls of staff and saw how much they enjoyed it.
"I've always wanted to be a part of the journalism department," Bergeson said, "so I thought it'd be fun to join."
Bergeson said overall she was very pleased with the finished yearbook and proud of all the work the staff put into it.
"There were a few small mistakes that some people probably noticed," Bergeson said, "but I think overall we were successful and did a good job getting the whole school involved."
A big difference with this year's yearbook was the fact that the signing pages would be black instead of white. Bergeson said that although she was nervous at first, she was very pleased with how it turned out
"I thought that the students would be upset about it," she said. "Then I found out that we would be providing metallic Sharpies, so that kind of put me more at ease, and when I saw how people were reacting, they actually liked it a lot, so I was pleased."
Bergeson said the only change she would have made was the process of getting the quotes for the quote bar.
"[It] was kind of a hassle at some points, so I think if we were to organize a little better and found a different way to gather quotes, then it would have been a lot less stressful."
Bergeson said she enjoyed how close the staff was this year, and how bonded they became through publishing the yearbook.
"There wasn't any drama because sometimes that can happen in the journalism department," she said. "We were all really close, so it was really fun to work together."