Summer treats and eats: Students share favorite places for summertime snacks, meals
Anna Wonderlich, Managing Editor & Maddie Jewett, Features Editor
May 30, 2013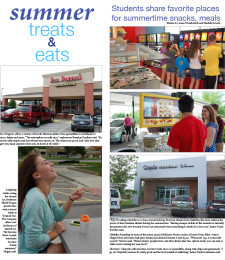 With school winding down and coming to a close, we talked to five students about what some of their favorite places are to go around town during the summer.
Whether it's grabbing a quick bite to eat before going to that party Saturday night or slurping on sno cones in the humid Kansas heat, these Blue Valley students told us their favorite summer spots.
SONIC: MCKINZIE NORTON
Junior McKinzie Norton said her favorite place to go for food is Sonic.
"I like Sonic because it's quick and easy, and their food is pretty good," she said.
She said the menu has a variety of different things she likes to order ranging from cheeseburgers to chicken to hot dogs or drinks. According to Sonic, there are over 398,929 drink and slush combinations to choose from.
"Their onion rings are the best, so I always order those," she said. "And I also sometimes order Reese's Blasts and popcorn chicken."
Sonic has a variety of flavors to mix fountain drinks with, including vanilla, chocolate and many fruity flavors like peach, strawberry, cherry, grape, etc.
From 2-4 p.m. each day, Sonic offers Happy Hour where drinks and slushes are half price. The downside to this is that ice cream treats are not included in the Happy Hour discount. However, they are half price after 8 p.m. during the summer.
Norton said one of the perks of going to Sonic is the low pricing on just about everything.
"The pricing is very reasonable, especially the value menu where you can get yummy food for just like $1.50," she said.
Norton said the atmosphere is her favorite part of going to Sonic in the summertime with her friends. She said many people will sit around at a table or hang out by their cars with their friends while at Sonic.
"Whenever I go, it seems like a party," she said. "There's always people there, and they always play fun, upbeat music that you can jam to while you're waiting for your food."
CHIPOTLE: TAYLOR JUSTMANN
Junior Taylor Justmann said her favorite spot for quick and easy food is Chipotle.
"I go [to Chipotle] because it's really good and the food is kind of addicting," she said. "It is an easy option because it isn't too far away from where we all live, and it just tastes so good."
Chipotle allows you to choose between a burrito, burrito bowl, tacos or quesadillas in addition to their chips and guacamole. From there you pick what type of meat: chicken, steak, barbacoa or carnitas. Then you decide what toppings you want, like black or pinto beans, white or brown rice, salsa, cheese and sour cream or guacamole.
Justmann said she has one thing she typically gets almost every time she goes to Chipotle.
"I usually get a burrito bowl with chicken and some other stuff in it," she said. "I almost always get the same thing because I just like it so much."
She said the pricing is fine and you get a lot of food for your money.
"I don't think it's expensive because you get a lot for your money and the food is good quality," she said. "It really fills you up, and it is affordable for younger people like my friends and me."
Justmann said her favorite part about Chipotle is the cost and the amount of food customers always get with their purchase.
"I like that it's cheap and you always have leftovers," she said. "It is extremely filling and it's a good place to go if you haven't eaten very much so far that day."
Justmann said she visits Chipotle very regularly.
"I probably go there about two times a week now," she said. "I used to go way too much but then I just got kind of tired of it."
Justmann said the atmosphere at Chipotle is lively and exciting.
"I always see someone I know everytime I go because it's really popular among high school kids," she said. "It's fun to see people you haven't seen in awhile and get to catch up with them. Also, it's just nice to be around other people our age because the majority of the people that go there seem to be teenagers."
TROPICAL SNO: MOLLIE HOGAN
Whether it's Fuzzy Navel, Peach Razmatazz or your own personal concoction, Tropical Sno offers over 40 flavors of shaved ice to choose from and mix together.
Freshman Mollie Hogan said she usually orders the same thing every time she goes.
"My favorite flavor is pink lemonade because it feels summery," she said.
Tropical Sno has two locations: one in the corner of the Hy-Vee parking lot off 135th Street and Antioch or near 135th Street and Holmes Road. Although the one on Antioch is called Tad's Tropical Sno and owned by a different person than the Tropical Sno off Holmes Road, Hogan said both places taste the same.
Regardless of which location you choose, Hogan said she loves going to Tropical Sno.
"The atmosphere is really friendly and happy," she said. "It's also super chill and it seems like a lot of high schoolers go."
With a small cup starting at only $2.50, Hogan said she thinks Tropical Sno is the perfect price. Additional flavors can be added for an extra 50 cents.
"I would say the pricing is pretty reasonable because even if you just get a small you get quite a bit of ice and juice," she said.
Hogan said Tropical Sno is the perfect place to go on a really hot summer day.
"My friends and I go there a lot on days when we've been laying out at the pool," she said. "It is just one of those places that is nice to be at in the summertime, and we just eat our sno cones and sit and talk and cool down. I really just like every part of the entire Tropical Sno experience."
JOSE PEPPERS: BRANDON FORDIANI
Located off Metcalf Avenue and 143rd Street, Jose Peppers Border Grill & Cantina offers a variety of favorite Mexican dishes from quesadillas to enchiladas to tacos, fajitas and more.
Sophomore Brandon Fordiani said he typically orders fish tacos whenever he eats at Jose Peppers.
The restaurant is also known for it's popular chips, salsa and espinaca, something Fordiani said he looks forward to every time he goes to Jose Peppers.
"Well, I like cheese and chips, so I obviously love the chips, salsa and espinaca," he said.
Some of Jose Peppers' most popular dishes include the Pollo Magnifico, Creamy Steak Enchiladas and Fajitas Del Trio.
Fordiani said the espinaca from other Mexican restaurants around town does not compare to the espinaca from Jose Peppers. Jose Peppers uses jalapeño cheese, onions, ripe tomatoes and a little spinach to create their popular espinaca dip.
"It's the best espinaca dip out of all the Mexican restaurants around here," he said. "I love it. Plus the chips are always really salty and light and really addicting. My family always goes through several bowls of chips before our food even gets to the table."
With espinaca priced at $1.49 with a meal and entrees starting at prices under $10, Fordiani said Jose Peppers is a
generally cheap and delicious place for high school students to eat.
"I can't complain about the prices," he said. "For the amount of food you get, they're fine."
Although Jose Peppers can become pretty busy during dinner time or on the weekends, Fordiani said he the atmosphere and service is always good.
"The atmosphere is really nice," he said. "It's never really empty, and they always have sports on. The waiters are good, and I like how they give you hand sanitizer when you sit down at the table."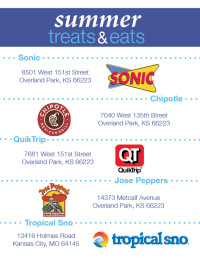 QUIKTRIP: GRANT KUECKER
While filling up your gas tank at QuikTrip, you can stop in and grab anything from a fountain drink to ice cream or basically any kind of food a typical convenience store would offer. Located off 151st Street, QuikTrip is a favorite place during the summer for many students, including junior Grant Kuecker.
Kuecker said he always gets a 32 ounce Dr. Pepper with vanilla flavor added.
"Dr. Pepper is my favorite drink, and it's only 89 cents, so it's awesome," he said.
QuikTrip reduces the prices of their drinks during the summer, an idea Kuecker said he thinks is really smart.
"Having cheaper drinks in the summer is basically the greatest idea ever because it's hot out and people want something to drink for a low cost," he said.
Last fall, QuikTrip finished a large remodeling project which replaced the old building with a larger, more modern one in addition to several extra gas pumps and a larger parking lot.
"There's a lot more space to get your drinks, and it has better flow for when people are leaving and coming," Kuecker said.
Kuecker said he likes how QuikTrip opens early, closes late and is a one-stop shop for almost everything. In addition to drinks, QuikTrip sells sandwiches, chips, hot dogs, taquitos, ice cream, pretzels, candy and more.
"I always get their donuts in the morning before school," he said. "Everything is priced very low and they have good combo deals for food, like buy two for a certain price. The ice cream is a good start — it tastes good, but there aren't very many options."