Celebrating Cultures: Diversity leaders opt for alternative to annual assembly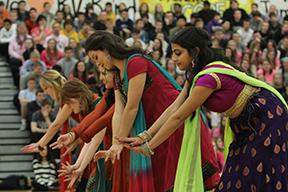 In addition to the week recognizing the many types of diversity at Blue Valley, the annual diversity assembly has been changed to an all-new format.
Diversity Club President junior Mercedeh Tavacoli said Tiger Time lessons on Feb. 19 and 26 will provide information on different BV organizations.
"[Students] will rotate and go to different groups such as GSA, REbeL [and] Special Education," she said. "That way, we can get the point of diversity across more."
Diversity Club sponsor Manal Siam said the change came from student responses.
"The advisory committee felt like some acknowledgment of certain issues and subgroups was still missing in our school recognition and diversity assemblies," she said. "We felt the audience was most receptive to presentations from within our school community, so this year we are highlighting a few of those and having [students] rotate through what they have to offer."
Tavacoli said other activities will promote the club's message.
"We are doing a diversity week, so people can dress out for that the same way they do for Homecoming or Sweetheart," Tavacoli said. "We are also doing a fundraiser [through Tiger Time], so people can also participate. The winning Tiger Time will get a treat."
Siam said the new approach will keep students more attentive to presentations.
"Every year, I think we have to fight harder and harder to keep young people engaged because there is so much out there — both positive and negative — to take away their attention," Siam said. "Mixing it up with the way we go about it keeps expectations fresh."
Tavacoli said there will be an after-school diversity performance students can attend.
"I think the change will be beneficial in sending the message because last year, there was a lot of disrespect during the assembly," she said. "People weren't able to hear the performances or actually listen."
Siam said she is proud to be a sponsor of the Diversity Club due to its impact on the BV environment.
"This year our leadership is outstanding, and they are making things happen," Siam said. "They are like-minded people who share a common goal. Diversity is about everything — sexual orientation, socioeconomic class, race, ethnicity, gender, religion and so much more. I think our Diversity Club does the best they can to discuss these issues as a club and spread knowledge and awareness to those who are willing to listen."
Tavacoli said diversity is an integral part of BV's identity.
"I think [Diversity week] shows the school and the community how diverse we actually are because people don't usually think of Blue Valley High School as a diverse area," she said. "Everyone thinks everyone is the same, but in actuality, we are all different — that's the point of diversity."