More Than a Disability
Student's experience with muscular dystrophy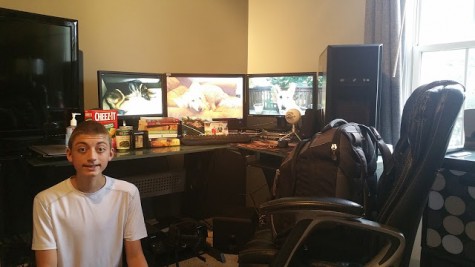 Freshman Nathan Dodson leads a normal life, just like any other student at Blue Valley High School. He works hard in school and afterwards he goes to Tae Kwon Do and participates along with his other classmates.
"[My disability is] Bethlem Myopathy, a form of muscular dystrophy." Dodson said. "I am still able to do most of the things other kids do, just not any climbing or running." According to Dodson, his disability does not keep him from doing most things, in or outside of school.
"I have to make sure I do exercises to keep my legs as strong as possible, which was something I didn't do until I was diagnosed." Dodson said. "At school it really only affects phys. ed. and I get questions sometimes." Dodson has found that people are very accommodating of his disability.
"Sometimes [my family] doesn't completely understand if my legs are hurting or if I need to rest, but they have supported me through everything." Dodson said. "All of my teachers have been very nice and supportive of my disability." Dodson feels welcomed by his peers and family members, and he is intent on not letting his disability interfere with his future.
"I want to be in computers so that is not very physically intensive." Dodson said. "I will need to take extra caution and make sure I am as healthy as possible." Dodson feels that his future will not be determined by his disability, and he has many friends supporting him.
One of Dodson's greatest supporters is his friend, freshman Logan Schmalz. "I think that Nathan can really do whatever he wants." Schmalz said. "I have seen him do some great things, so with hard work and effort he can really be whatever he wants to be." Dodson feels that he could participate in different activities if he did not have muscular dystrophy.
"I am certainly not as active as most kids, but I feel that I am active enough." Dodson said. "I would like to get out more, but I have things I would rather be doing which kind of stops me." Nathan has many other interesting activities he participates in for fun.
" I enjoy using my computer, biking, fishing, and spending time with friends." Dodson said. Dodson still manages to participate in many activities, whether they are physical or not. He frequently spends time practicing Tae Kwon Do and playing videogames with his friends.
"I definitely believe that Nathan will be able to do what he wants to." Schmalz said. "He is a smart kid and a really hard worker, so if he continues with his great attitude until he is an adult he could be really successful."