Through the Looking Glass
Committee members shed light on prom preparations
Dancing, dresses and decorations — the annual promenade, gathering hundreds of juniors and seniors each year, is one of Blue Valley's most time-honored traditions.
Seven students — all junior girls — are responsible for the creation of Prom. 
BV counselor Mary Glotzbach said there's always been a committee of juniors who get together to plan the party for the senior class.
"They started with their theme," she said. "From that, they came up with ideas and have been working very hard for the past three months."
The committee meets Thursday mornings to work on one of three sections — Design, Invitations or T-Shirts.
The three groups work separately at first, but after completing their given tasks, they come together to design and survey the dance's location.
"We help out with all other parts that aren't done," junior Rachel Nienstedt said. "We go to where the dance is held and see the design choices we want and see if the DJ can help out with the design." 
This year's theme, "A Walk in Wonderland," will feature Alice in Wonderland décor and a special themed centerpiece. Unfortunately, some creativity is limited by mandated requirements.
"Water bottles have to be there — everything needs to be sealed," Nienstedt said. "We wanted [other drinks] like tea, but we couldn't. We were going to have displays in the middle like cards or mad hatter-themed decorations."
Nienstedt is in charge of T-shirts, which she said is more complex than one would think.
"The hardest part in design is finding the right color and deciding if everyone likes it," Nienstedt said. "Designers of both decorations and T-shirts have the task of making sure their choices are palatable for both boys and girls. If one out of the five [boys surveyed] didn't like it, that means one-fifth of the school probably wouldn't like it."
While making the dance gender-neutral is a priority, Nienstedt said the fact remains that Prom is aimed toward girls.
"Prom is really for the girls who grew up dreaming of being princesses," Nienstedt said.
She said the dance committee members view Prom as a send-off for the senior class.
"I really like that [Prom] is a junior's gift for the seniors," Nienstedt said. "Don't worry seniors, we got this one."
About the Writer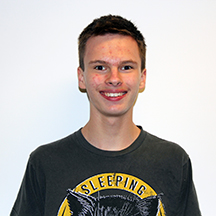 Connor Heaton, Staff Writer
Connor Heaton is a staff writer of "The Tiger Print." He loves to write stories. Along with writing for the paper, Connor loves to come up with snazzy,...