Middle to High
Transitioning to Blue Valley High School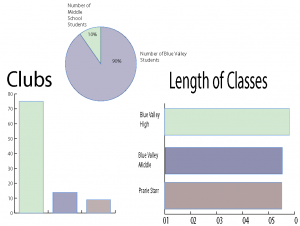 School is back in session, with a new year, comes brand new blood. Freshmen. The transition from middle school to high school can be tough but just how well are the Blue Valley freshmen handling it?
"I think freshman have transitioned really well. It seems to have made some of the freshman a little more mature. Freshman, Tatum Anderson said, "I think we understand high school now."
Obviously middle school is very different from high school and the freshman have noticed, Jack Lewis said, "You get to have a lot more freedom in the classes you choose and just anywhere plus the teachers are better."
With the transition comes many different challenges. Freshman think high school is hard and the building is big and the people can be overwhelming.
"Going to your classes that are on the opposite side of school is a little more difficult, but you get used to it." Anderson said, "Also, some of the teachers go a little faster than I can handle but not always."
Despite the classes, homework, and daily tests, the freshman said they have transitioned well and really like being at Blue Valley.
"I love high school."  Paige Faust said, "We are like a big Tiger family."