Drama Con
BV students attend theater convention, participate in various workshops, competitions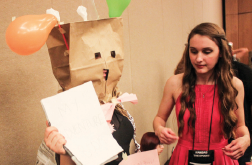 Every year, at the start of second semester, most of the upperclassmen drama students are conspicuously absent from class. They aren't participating in a program-wide skip day — they're attending Drama Con.
"It's a big convention for all of the people in theater and the International Thespian Society," senior Maili Cotter-Brown said. "There's one in every state, so we go to the Kansas State Festival."
The convention brings together drama students from all over Kansas.
"There's State shows that get adjudicated, and they go, so we get to see some of the best high school shows in the state of Kansas," Cotter-Brown said. "They also have people that are really qualified and work in theater and are really good at different aspects of theater who teach and conduct workshops."
The workshops teach students about a wide variety of topics, Cotter-Brown said.
"We spend most of our time in Rep Theatre putting on shows, and we learn a lot about theater through doing shows," she said. "At Drama Con, there are workshops that are not things I would learn in a classroom setting. I took one about how to memorize things, and we made lines into these weird picture stories in our heads. That was really fun because I took it with a bunch of my friends. I've taken swing dancing classes and a sword-fighting class, [too]."
Senior Hannah Maxwell agreed the workshops are a great way to learn.
"[I got] to do workshops that I wouldn't even have known about," Maxwell said. "The career choice that I'm making, drama therapy, I learned at Drama Con through one of the workshops."
Senior Kailey Meacham said this year's convention provided a great opportunity to hang out with other drama students.
"One of my favorite things was just getting to know all the sophomores and the juniors that go that we don't get to see every day in class," Meacham said.
Students also have a chance to perform in various acting competitions.
Meacham and fellow senior Dalton DeWeese were chosen to perform in front of the entire conference — around 2,000 people.
"We got a superior [individual event rating], which is the highest rating you can get," Meacham said. The duet was called "Boy Meets Girl: A Young Love Story."
"It's all about two kindergarteners who meet and they have a crush on each other, and it's all about how elementary relationships are hilarious."
Drama teacher Jeff Yarnell said all his students did well.
"Everyone who performed an IE, they all got superior ratings, and only about 10 or 15% of the state got that, and we had one [group] that got to perform, and then we had never competed in Quizbowl before and we won that in State, and then Fifth Wall won again for the third year in a row. We had a really outstanding year."