The Future is Female
New wave of women politicians inspires next generation, shows potential as powerful political figures
After losing both legs and partial use of her right arm in a helicopter explosion, veteran Tammy Duckworth became an important voice in the veteran community, fighting for better care of wounded soldiers, establishing a veteran hotline and working to improve veterans' access to healthcare and housing. Duckw
orth was then appointed Assistant Secretary of Veteran Affairs under former president Barack Obama where she focused on decreasing the number of homeless veterans and addressing the distinct challenges Native American and female veterans face. Now, Duckworth works as a U.S. Senator for Illinois on four Senate committees fighting for clean water, safe infrastructure, public safety and supporting minority-owned small businesses.
---
Kamala Harris has been a long-time advocate for civil and human rights. Starting as the first female and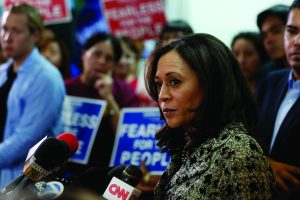 African American Attorney General of California, Harris tirelessly fought for Californian's rights to public safety and privacy. She prosecuted criminal organizations involved in human trafficking,defended consumers and homeowners and won marriage equality for the state of California. Most recently, she was elected the second African American female Senator in U.S. history, working on four different Senate committees to fight cyber-crime and big corporate polluters, and to defend the Affordable Care Act and refugees and immigrants entering the country.
---
Becoming the first woman and Indian-American to serve as governor in South Carolina, Nikki Haley helped the state's economy flourish under her governance. She talked to large corporations around the world to bring jobs to South Carolina
, resulting in a decade record-low unemployment rate. Haley a lso led the state when faced with a period of tragedy, speaking words of unity when met with the 1,000 year flood that devastated the state and when white supremacist Dylan Roof shot nine men and women in a hate crime. Currently, Haley serves as the U.S. ambassador to the United Nations under the Trump Administration, dealing with U.S. relations with countries such as North Korea and Iran.