GAMELAND
Band prepares new marching show
This year the Blue Valley Marching Band has strayed from their typical style for the marching show. Drum major junior Karina Howey said this year's Tron-like theme is unlike past shows.
"The past two years have been a more light-hearted message, but we're going toward a darker side," Howey said.
The theme, "Gameland," features a red team and a blue team that battle throughout the show.
Howey said the difference between a marching show and other band shows is the more interpretational and abstract theme. It's expressed through the music, choreography, costumes and even formations.
"The drill, which is what the band looks like, represents an idea," Howey said. "Like for a ballad, where it's more soft and beautiful, we're going to have more rounder shapes like curves and circles, while a more aggressive movement, like for our red team, will have more boxes."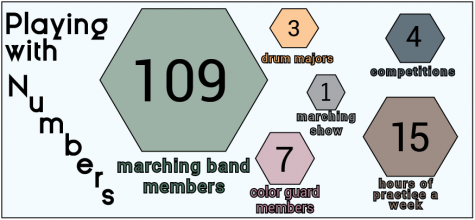 Another large part of the expression of theme is the color guard. Co-captain of the color guard junior Celie Strain said they help establish the storyline of the show this year.
"We are kind of setting up the whole story of how it's the red character versus the blue character," Strain said. "I'm blue team leader and Haley Jones is red team; the rest of the girls on color guard who are not the team leaders are just on the different teams."
The storyline also develops
over the prelude and four movements of the marching show in the choreography and props. Different sections of instruments in the band will be doing more choreography and even battle scenes with instruments.
The color guard is using several different flags as well asa new prop, Air-Blades. Strain says the Air-Blades are very similar to spinning rifles.
"They have little holes cut out off them, are made of plastic, and are a little bit bigger than rifles, but you spin them very much the same," Strain said.
Competition season for the marching band consists mostly in fall. They will be attending four competitions this year. The competition at Blue Springs was on Saturday, September 30th, where the marching band took 5th place in finals. They also took 11th place in Tulsa, Oklahoma on Saturday, October 14th. The other two competitions will be at KU and the Kansas State Championship. The band is hoping for good results at this new state competition, Howey said.
"The Kansas State Championship is new for us, and our goal is, since we're technically not a name within that competition, to just go in there, be a first year and throw down. Hopefully, we can come back with a State Championship," Howey said.