Story of Rhythm
Two Blue Valley students share their musical careers so far
Blue Valley is home to musical talents. This can be seen in the school's award-winning orchestra, band and choir. Along with more traditional music groups, there are some that take a more modern approach to music-making. Two such artists are rapper junior Hosea Berryhill, and hip-hop producer senior Javan Hart.
Berryhill has been making music for three months, while Hart has been producing for a year. They said that this has given them both time to develop their musical talents in different ways.
Berryhill said he uses the dictionary to help expand his vocabulary.
"New words are important because you don't want to use the same words," he said.
Another way he works on developing his rapping abilities is by listening to other artists who are of a high standard, which he said will help him to avoid turning into a lower-caliber rapper.
"[I am] just working, trying to learn new history and [learn] about other people," Berryhill said.
Hart also shared how he learns to analyze and polish his music.
"I'm constantly watching the different tools and things that other famous professional producers use," Hart said. "I'm always looking at mixing."
In addition to discussing their current methods of improvement, Berryhill and Hart outlined the possible difficulties in their musical careers down the line.
"The biggest challenge is going to be the people I'm associated with," Berryhill said. "The mental stability [could be another challenge] because [I] might hit a rough patch of being relevant in years to come when [I'm] getting up there."
Berryhill said his plan for overcoming these challenges was to make sure he  associates himself with the right people. For Hart, however, he said his concerns are more content-oriented.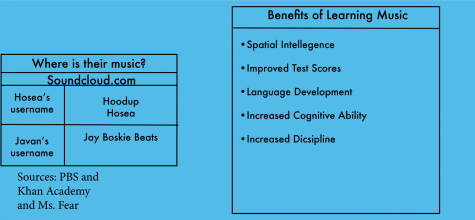 "I would say a big challenge of mine would be consistency," Hart said. "Consistency with music is going to lack because I want to focus on school first. Looking ahead, I would definitely have to say 'beat-making-block' [will be a big challenge] — the whole block where you don't know what to make anymore. I don't know too many different chords and chord progressions and key notes."
Hart said he is planning on getting an instructor to help him with these challenges.
"I do know some people at a church that I go to [who] could help me do keys," he said. "I feel like the importance of learning how to play the piano would probably be my best bet on overcoming that situation."
In the end, they each have advice to share. Berryhill said despite the corny implication, it's always important to be yourself. Hart said he agreed.
"I would like to say if there's something you love to do, don't be afraid to do it to the fullest," Hart said. "Life is too short to do something that you don't like to do, or do something just because you get money from it."