Flooded with Support
After BV student lost his home, others rush to help him
H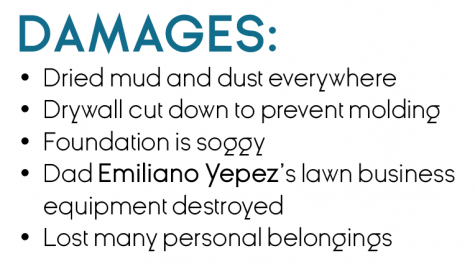 urricanes Harvey, Irma and Maria — all of these massive storms left a devastating amount of damage in the United States. News stations captured footage of families waiting for rescue on their roofs.
Such catastrophes aren't too foreign to the Kansas City area either, as sophomore Emilio Yepez knows now.
Yepez's house is located near Blue River, where a record 28.22 inches of rain fell Aug. 21-22, according to the Kansas City Star.
As his house filled with water, Yepez thought about all of his clothes, the house and, most importantly, about how his parents would be impacted.
"My parents didn't have a good education, so they came from nothing," he said. "They came from southern Mexico. They were legit walking around with no shoes when they were younger, so that just got to me."
For seven hours, the Yepez family awaited help on their rooftop until some friends with a large military truck picked them up.

"I was really hungry," he said. "I didn't really think much about anything except food and water. [When I was rescued], I honestly felt the same because I knew the house was pretty messed up."
Even now, Yepez said his parents are worried about the situation.
"[My parents] have been stressed for the past couple of weeks, and they're trying to figure things out, [like] what we're going to do with the house," Yepez said. "They've just been really busy, going up and down places."
Yepez said he too is still impacted by the flooding.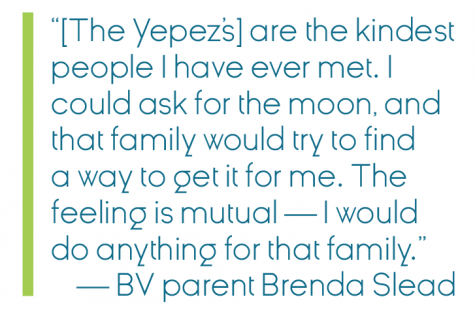 "We still have to repair the house," Yepez said. "I'm living around 20 minutes away, so it takes a while to get to school. We live by Shawnee Mission South [in] a temporary house that the [Sleads] lended to us."
BV parent Brenda Slead knows the Yepez family through the soccer team, which Yepez and his older brother Yahir Vanvollenhoven have been a part of. Vanvollenhoven and Slead's son were on the same team, and that's where the friendship between the families began.
"They are the kindest people I have ever met," she said. "I could ask for the moon, and that family would try to find a way to get it. The feeling is mutual — I would do anything for that family."
Yepez and his two sisters stayed with the Sleads for four weeks, while the rest of the family stayed in other homes.
"My family continues to help them get moved into temporary housing, collect donated furniture, clothing and supplies," Slead said. "[We also] work on figuring out what they will do next with their home. It's a work in progress."
Yepez has also received monetary support through fundraising on GoFundMe and house repair help from the soccer team.
"We received a tremendous amount of [aid]," he said. "When me and my brother went to work, [the soccer team] came and did the drywall part. That really helped me out. It felt great — a little bit of the stress was relieved."