New Year of Symphonic Orchestra
Students reflect on first concert, anticipate events ahead
This past August marked the beginning of a new year for the Blue Valley orchestra program.
With one concert already completed, members of the more advanced group, Symphonic Orchestra, have an eventful year ahead.
At the first concert which took place on Tuesday, September 25, the symphonic orchestra was joined by the middle school orchestras from Blue Valley's feeder schools. They performed separately and then united for the final song of the night.
Preparations for this performance began back in August, but according to sophomore Symphonic Orchestra members Lauren Tang and Rachel Ma, last-minute changes were required nonetheless.
"We were playing this song and the day of the concert our teacher decides that she doesn't want us to play the song anymore, because apparently, we're out of tune," Tang said. "To my ear, it was fine, but maybe she's hearing something that the rest of us aren't hearing."
After the concert, Ma said, "It was pretty poorly organized, and I am worried that it won't get better through the rest of the year."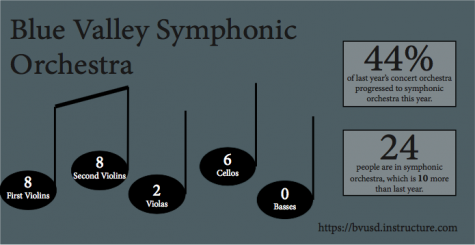 Upcoming events for this year include an individual district orchestra auditions, a winter concert and a possible trip to perform at an orchestra festival. This trip, however, remains a tentative plan due to money and time constraints.
"I'm looking forward to a possible trip in the future with the orchestra," Tang said. "Last year we were planning a ski trip, but it fell through because it was too last-minute and a lot of people wouldn't have been able to go, but I hope we'll get to do one soon."
An aspect of symphonic orchestra that sets it apart from the less advanced group is the expectation that students will be able to play more difficult music for events.
"Sometimes, I think the parts that we play don't challenge us enough and they also might be focused a little too much on violin parts," Ma said. "If the teacher would let the whole class decide on what music to play then I feel like ev- eryone would be unanimously happier."
Despite di ering opinions regarding the class, students come together every day to rehearse. Each day brings them closer and closer to the many events that will occur over the course of the year.
"My favorite thing about orchestra is that it's a laid back class, and I never have to be worried or stressed about my grade or nals in the class," Tang said. "I can just use that hour to unwind and play music with my friends. I think it's an essential class to help keep me focused and relaxed during the day."