Austin Bombings
Multiple explosions raise concerns, police investigate suspect's motives
There was a series of five bombings in and around Austin, Texas.
They took place throughout March, with the first bomb exploding on March 2, and the most recent on March 21.
In total, two were killed and five others were injured by the bombings.
Each bomb was hidden in a package used for mailing goods.
A majority of the explosions took place in east Austin, where most of the residents are minorities. This sparked the idea the attacks might be hate crimes or racially motivated.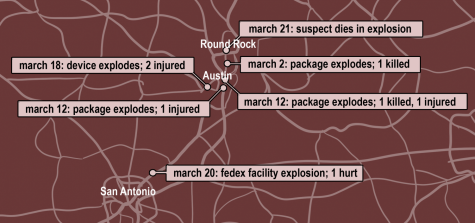 In the evening of March 20, the police issued an arrest warrant for suspect Mark Anthony Conditt.
The police were able to identify him using many different methods, such as tracking receipts and internet searches. The most helpful information, officials said, was a surveillance video that showed Conditt delivering packages to a FedEx store.
On March 21, authorities tracked him to a hotel in Round Rock. Conditt got into his car and left the hotel. The police then pursued him until he went into a ditch on Interstate 35.
Subsequently, Conditt detonated a bomb, killing himself and injuring a SWAT officer.
It was later realized Conditt taped a half hour long video confession on his phone.
Austin Police Chief Brian Manley said Conditt confessed to building the explosives in the video but did not explain why he targeted his victims or make any hate-related references.
Afterward, Conditt's family shared a statement.
"Right now our prayers are for those families that have lost loved ones, for those impacted in any way, and for the soul of our Mark," a portion of the statement reads. "We are grieving and we are in shock. Please respect our privacy as we deal with this terrible, terrible knowledge and try to support each other through this time."
Featured Image courtesy of Tribune News Service.
Sources: CNN, USA Today