Looking at the Bright Side
Good things happening despite the virus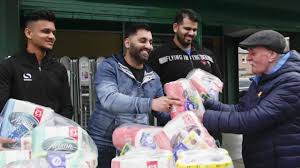 As obvious as it is to see, 2020 has not been the best year. It seems as though each month has brought on a new challenge for the world to try and defeat. The growing severity of the corona virus seems to be the cherry on top of the mess that is 2020. With strict guidelines on social distancing and the loss of experience of many exciting, upcoming events, the world has felt defeated.
However many seem to overlook all the good that has happened in the world, despite the growing scare of the virus. Thanks to all the free time, people of all upbringings and lifestyles have found new and innovative ways to give back in and make a difference to show the world that there are ways to stay positive.
Businesses, large and small, have decided to take it upon themselves to use their platforms to create awareness towards healthcare workers, employees working in essential jobs, as well as those who are not able to help themselves during this time. Providing sick pay to employees who have to drop everything to aid a loved one, like Google, or donating their own shoes to healthcare workers while still raising money to donate, like Crocs, are just some of the ways that businesses are doing their part.
Along with this, families, children, friends, and coworkers are doing everything they can to spread joy across communities and show others that there is still light in this dark time. By aiding the elderly in grocery shopping to making masks and protective gear to keep everyone safe, people of all ages are doing their part.
Humans are not the only one bringing a sense of positivity to the world right now. With people off the streets and inside, Earth's wildlife has seen a major improvement.
In the midst of a tragedy, it is important to recognize that there is still good in the world. Big or small, there is no size guideline as to what can bring the world joy in a time like this.