What Goes Around Comes Around
President Donald Trump's timeline with COVID-19
Saturday, September 26th, Trump held a ceremony in the White House Rose Gardens where he would announce his nominee for the U.S. Supreme Court, which was Amy Coney Barrett. There were many guests who attended with no masks, were packed into both outdoor and indoor areas. At least eight people, including the president and first lady, have all tested positive for coronavirus. Later that same night, Trump flew to Pennsylvania for an outdoor rally. 
Tuesday, September 29th, was the night of the infamous presidential debate in Cleveland. According to The Washington Post, nearly all of Trump's debate guests refused to wear masks during the debate. An official from the Cleveland Clinic offered them masks if they had forgotten or didn't have any, but was promptly waved away. Chris Wallace, the debate moderator, stated that Trump didn't test before entering the debate because he had arrived late. So far, Joe Biden and his team have all tested negative. 
Wednesday, the next day, Trump flew to Minnesota for a fundraiser, and yet another rally. One of Trump's closest aides, Hope Hicks, said that he started to feel unwell, and tried to isolate himself on the plane ride back. 
On Thursday, October 1st, President Donald J. Trump posted to his twitter feed informing the nation that he and the First Lady had tested positive for COVID-19. Hope Hicks also stated that he had tested positive. Even after testing positive, Trump flew to New Jersey for yet another indoor fundraiser, where only a few people wore masks. Doctors said that Trump had a fever "Thursday and into Friday," but wouldn't state how high it was.
Friday, the following day, Trump said that he had mild symptoms, and Melania also stated she had mild symptoms but was doing well. Doctors said that Trump did have a fever earlier in the morning, and had also had a dose of oxygen.
Saturday, doctors at Walter Reed said that they were impressed with how Trump has handled his situation so far, but officials at the White House said otherwise, saying that his condition for the past 24 hours was concerning and that they'd keep a close eye on him for the next 48 hours. 
Trump was recently hospitalized at Walter Reed National Military Medical Center. Everything else regarding how he's been doing has been unclear.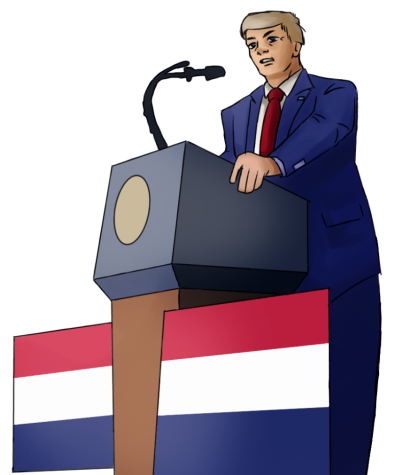 Around 11:40 on Monday, October 5th, two of the White House Press Secretary Kayleigh McEnany's staffers, Chad Gilmartin and Karoline Leavitt, had tested positive for coronavirus. Earlier, McEnany shared that she too had tested positive. Monday morning, Ivanka Trump and Jared Kushner said that they tested negative, according to White House spokesperson Carolina Hurley.
Overall, the news of Trump's diagnosis has been news to us all and continues to surprise us every day.