On Top of the World
Senior takes on national cheerleading competition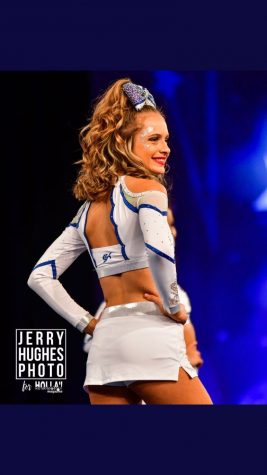 To most people cheerleading is sideline entertainment, but that is just a small glimpse into the cheer world. Along with high school cheer, senior Maddy Bridges also competes on the Level 6 team, Platinum, at Kansas City Athletic Cheer (KCAC).
"There is an extremely big difference between the two: high school cheer teams are more relaxed and many girls do not take it seriously or have the skills to be [on] a competitive team." Bridges said, "Competitive cheer is much more intense and requires more commitment than a high school team."
Although competitive cheer sounds fun, it requires time commitment and travel.
"Scheduled practice times are about 8 hours a week and then I come in about 5 extra hours," Bridges said. "During a normal, [pre-covid] year, we [had] about 6 to 8 competitions out of town."
The small girls-only team received their bid for Worlds this year at The Redline Competition in Orlando, Florida. "Worlds is the world championship of cheer and only level 6 and 7 teams get to go and compete," Bridges said, "To get a bid you must go to a bid event and compete. Each competition has its own criteria."
Like any other sport, All-Star cheer has been affected by COVID-19. Several competitions have been canceled completely or done virtually.
"We have to wear masks, which have affected the performance and look by not being able to see the facial expressions made or excitement, but it's understandable that we need to keep everyone safe," Bridges said.
Due to the coronavirus, Bridges is hopeful she gets to compete in Orlando this spring.
"Worlds is huge. There are several thousand people there and it's the most exciting competition for any cheerleader. I have competed at worlds three times and last year would have been my fourth," Bridges said, "They have talked about making Worlds virtual, and that would be very sad for me because competing at the competition is the highlight of my year."
While Bridges has been to Worlds several times, this could possibly be her last opportunity to compete with Platinum, as she continues her cheer journey next year at Oklahoma State University.
"This could be my last year with my team," Bridges said. "[However,] I am forever grateful to hit the stage with them one final time at Worlds this year."