We've Got Spirit, Yes We Do
Dance, cheer attend State competitions
As November arrived at Blue Valley, the Tigerette dance team set its sights on Kansas' first ever in-person Gameday State competition.
After competing virtually last year, senior Lexi Pribyl and coach Allison Chael were eager for the team's historic opportunity.
Leading up to the competition date, the team learned and cleaned three separate dances that, when combined, created a three-minute gameday routine.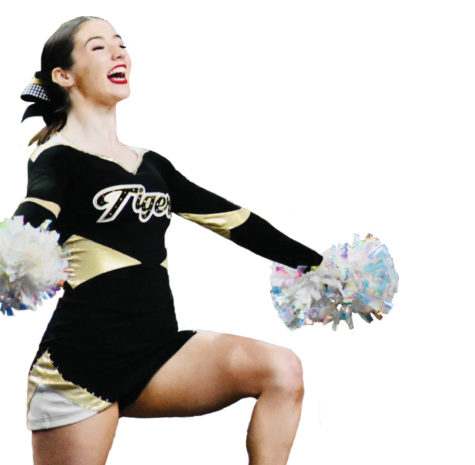 "It's three minutes of an incredibly powerful dance — the girls really have to power through," Chael said.
Pribyl agrees that the dancing itself is physically demanding but notes the transitions between elements can be even more difficult.
"You put all of your energy into one dance and then you have to keep your energy between," Pribyl said. "You just want to have a moment to breathe, but you don't really have the chance to do that."
Challenges for the dance team extended past the technical aspects of the routine: illness.
"This is the time of year where everyone is getting sick and has so many other things going on," Chael said. "[We're] really trying to encourage everyone to make sure they're sleeping, eating and studying when they need to, but when they're not doing all of that, of course practicing and resting."
Similarly to many sports, the dance team filmed choreography at the end of each practice and uploaded it to a shared Google Drive. The team was then encouraged to watch the recording three times through: once for themselves, once for someone else and once for the team as a whole.
"The next practice they know, 'Do I look like everybody else? Is there a movement or something that I need to change?'" Chael said.
These recordings also hold a special place in Pribyl's heart.
"What I like to do is watch a video of the first time we learned a dance — when it's a complete train wreck," Pribyl said. "Then I watch the most recent video, and it looks so different. It's so cool to see all the lines come together and see the entire result."
Pribyl believes this habit can inspire her teammates.
"You have to have the mindset that you're going to do something great in order for it to look great," she said. "If you have the energy to do something, you might as well make it worth it."
After weeks of preparation, the Tigerettes attended State and placed 6th out of 14 teams in the 6A category. Chael expressed she could not have been more proud of the girls.
"I am unbelievably proud of the Tigerettes this competition season," she said. "This proves hard work, dedication and lots of Tiger spirit can make a team successful."
When many people think of high-school cheerleading, girls shaking pom poms at sporting events usually comes to mind. However, for the Blue Valley cheer team, November held a much bigger event: the Kansas Gameday State Competition.
According to junior Mary Kate Arnett, combining many cheers, stunts and tumbling tricks into a three-minute routine made gameday strenuous on the cheerleaders.
"The most challenging part would be the stamina through the routine," Arnett said. "[It's difficult to] keep a big s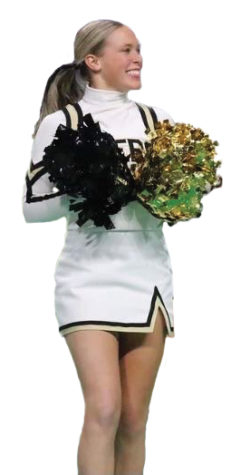 mile on our face even when we're exhausted and our whole bodies are on fire from all the jumping around and the tight motions."
From a coach's perspective, Jamie van Loben Sels recognizes how important maintaining high spirit is when being critiqued by a panel of judges.
"We have to keep the energy up the entire time — if it dies, it's really apparent," she said. "You can't get tired at the end of the routine because that's what's going to knock all of the technique points off."
The practices leading up to State focused on building stamina and strength as well as perfecting the routine. The cheerleaders watched film from previous run-throughs at the beginning of each practice, which allowed them to gain a better understanding of how each element can be fixed.
"Going over film has been beneficial to everyone," van Loben Sels said. "We can see those mistakes, and we can give constructive criticisms."
Following film, practice time was spent honing in on making each movement as precise as possible. In addition to coaches making changes, the girls watched each other and gave feedback.
"We'll go row-by-row and watch each other," Arnett said. "We have learned to take corrections really well because we learned to not take it personally — there's so many little details that go into making this routine perfect."
The team's hard work culminated into its State performance on Saturday, Nov. 20 in Topeka, Kansas. The BV cheerleaders walked away from the competition with third place overall.
van Loben Sels believes this experience will help inspire the girls for the rest of the year.
"We're really happy with third place, but I think they're still hungry," she said. "I think that increased all their drive, and they've been working really hard since then. We see where we're at, [and] we see things that we can fix, so let's fix them."