Acting Out
Sophomore speaks on potential State qualifications for competitive speaking, acting.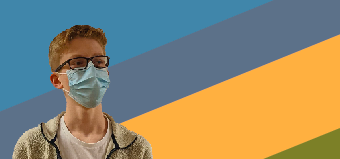 Many underclassmen struggle with confidence or public speaking, but not sophomore Grant Kozisek. Rather, he thrives in front of a crowd or a judge.
He began competitive speaking and acting this year, more colloquially called forensics, and has gotten three State qualifications so far. Kozisek competes mainly in acting events, his favorite to perform being his prose piece.
"My prose piece is called 'Commercial Break' by Augustine Burrows," Kozisek said. "It's about a kid who [has] the people from Kraft come to their school and try to get kids to be in a commercial. [Prose competition] isn't a super high stress environment because you have your script there; you don't worry about forgetting it."
Kozisek has qualified for State with his prose piece, as well as with his duo interpretation and dramatic interpretation.
"A humorous interpretation is [when] you take a script and do a funny interpretation of it. That can be any script, as long as its published by an author in script form," Kozisek said. "Dramatic interpretation is the exact same thing, just dramatic."
However, Kozisek said he won't be going to State to compete his dramatic interpretation because "it was a one-off."
"For one tournament, I had to be a filler," he said. "In order to be able to have people qualify for State, you have to meet a certain set of rules; there has to be at least six kids competing in an event, so I went to try to fill in so that some of our people could get state qualifications. The piece that I ended up winning the entire tournament with was 'hope ur ok' by Olivia Rodrigo."
He will likely go to State with his humorous interpretation, as well as his duo interpretation with his partner, sophomore Sammy Robertson.
"Sammy and I have been really good friends for years now," Kozisek said. "We actually started doing theater back in middle school, and we play off each other really well. When forensics season came around, we didn't even have to question [partnering up]."
While Kozisek loves the performance aspect of the activity, he loves the class even more.
"It's a fun environment to be in," Kozisek said. "There's no stress involved. Sure, it can be a bit nerve-wracking to get in front of a judge, but once you're done with that, it's just a really cool environment."