Prices are going Up! Up! Up!
Inflation seriously impacts Tigers Inc. business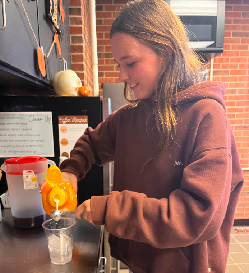 Tigers Inc. has not been fortunate enough to avoid the rise of global inflation, senior Julia Walsh, the coffee manager, faced many obstacles reformatting prices in apparel and the coffee shop.
"It greatly affected the coffee shop — we've raised almost all of our prices. Last year, we were     selling iced coffee at a whopping $2, and now we've bumped it up $1 to $3 because things like creamer have almost doubled in price and we buy the bigger creamer sizes [now]," Walsh said. "In order to cope with that, we had to raise our iced coffee prices because we noticed that although we are still generating revenue, [new prices] can really add up."
Walsh has found the best way to combat this problem is to          constantly catalog products and how customers react to these new prices.
"We're also a lot more strict on keeping inventory and keeping track of what is being sold — how much we're paying for it, how much money we're making on each        transaction, factoring in the credit card fees, staying organized and talking with our financial team about making sure we are still making enough profit and revenue to keep the store open and running," Walsh said. "My solution is keeping track of everything and not letting a cent go by unnoticed."
Outside of school, Walsh takes the time to observe public prices and how those may reflect on Tigers Inc.
"When I'm grocery shopping, I realize a lot of prices have been going up," Walsh said. "Even Starbucks has gone up, so it's definitely taught me to be paying attention to these factors and what I can do to change my order to save a little bit of money." 
Along with Walsh, business teacher and facilitator of Tigers Inc. Kathy Peres said global inflation has affected their business.
"We started looking at our prices over the summer," Peres said. "Due to the inflation we're experiencing in every walk of life right now, the cost of our inputs for everything from creamer to cups to lids, anything that goes into making a cup of coffee has risen including the price of beans."
Compared to other schools, Peres states that she does not collaborate with other school coffee shops or businesses because of their vastly different clientele. 
"Every school's coffee shop works individually — their students make the decisions," Peres said. "Also, school by school, we operate a little differently      because we are customer-based and our clients are a little different. We don't sit down and say, what are you charging? We're not apples to apples, per se."
Though Tigers Inc. has encountered and tackled some major obstacles in the past year, it has given the students more  experience through economics and marketing. As well, Peres is eager to see how well the coffee shop and apparel business will do this year. 
"[The] coffee shop here has never been something we're trying to make a ton of money on," Peres said. "I love it as a service for the kids [and] love having it available for the students. From day one, we were very careful to try to keep prices very reasonable."