Revamp and Renew
Students, staff work to redo senior hall to encourage a productive environment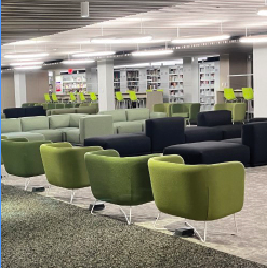 With the removal of the lockers and carpet in the 500-hall, better known as the "Senior Hall," students and staff are looking for new ways to bring productivity and comfort. 
Psychology teacher Courtney Buffington has been tasked with the project to revamp the hall with juniors Claire Hannasch, Mackenzie Campbell, Amira Dvorak, Josh Gordon, Peyton Hugg and Grace Wagers. 
Buffington began working with students interested in psychology on the new project to provide real-life opportunities to research and execute a project to improve their school and help their peers. Organizational industrial psychologists study how people are most productive, what motivates them and what produces stress and anxiety in their workspaces. Working with the revamp committee students experience what this job would consist of. 
"There are so many students interested in psychology but don't want to be therapists," Buffington said. "This is a great chance for students who are interested to practice research methods by collecting data, our needs and [designing] a space based off the needs of those people." 
Hannasch said the main point of the project is comfort and coziness.
"We definitely want to make it more homey — we want lots of couches and also some independent workspaces," Hannasch said. "We want to incorporate both group environments and singular workspaces."
Although eager to get cracking on the project, the funding is very important. 
"We need the money for it," Buffington said. "That's why we've applied for a grant."
Buffington is hopeful to move forward with the revamp as soon as possible with the completion goal of this school year. However, if the grant is not approved, the project may not be completed until the 2023-2024 school year. 
From the grant request application, "It is an open area with beautiful vaulted ceilings that students used to use to collaborate and study, but this summer carpet removal and locker bay removal impacted the ability to use this space in a meaningful way."
The changes in the hallway last summer created a major noise increase. 
"The vast concrete space is sprinkled with old cafeteria tables as loud conversations float freely down the hall, spilling secrets and distracting learners," Buffington said. "When they took out the carpet and lockers, it lost some of that cozy, comfortable feeling."
She is hopeful students will use the space during Academic Support Time and other work times in order to complete homework assignments and other schoolwork. 
"[We want] an environment that helps promote learning and that kids want to go out and work in," Hannasch said.
Gaining inspiration from college libraries and former students who have shared those workspaces, the group has been brainstorming ideas. 
The committee also put up flyers in the 500 hall for students to complete with what they would like to see in the 'new' senior hall. In addition, they have asked teachers from the hallway what they think would be helpful for students. 
"It's a beautiful space and such a great area," Buffington said. "[We] can really do something here."