Committing to Kindness
SevenDays committee members discuss 2023 Kindness Week
SevenDays is an organization dedicated to spreading kindness and remembering the lives lost in the tragic shooting at the Jewish Community Center in 2014. 
For sophomore Abby Reeves, the themed week sponsored by SevenDays is not only a time of reflection and remembrance but a time to spread positivity and kindness into her community.
Becoming involved with SevenDays holds much personal significance for Reeves for various reasons, including her older brother's extensive work in the organization during his high school years.
"I've always had the organization on my radar — also, I'm Jewish and since the shooting was supposed to be an antisemitic attack, I remember how close to home and scary it was in the Jewish community," Reeves said. "When I got to high school years later, I got to know Mrs. O'Bryan and she really encouraged me to get involved."
During April 5-13, Reeves and other members of BV's SevenDays committee planned activities for the school which will bring awareness to the tragic events of the Jewish Community Center shooting and "how to bring SevenDays to life within our school community."
Advocating for the remembrance of Reat Underwood, a BV student whose life was taken during the shooting, continues to be one of Reeves's top priorities.
"Now that so many years have gone by, it's unlikely that very many kids personally knew Reat," Reeves said. "We are going to make it a priority that people understand that he was a student here at BVHS just like we are." 
Additionally, SevenDays provides a kindness goal for each day of that week: love, discover, others, connect, you, go, and onward. Each day's goal allows for the participating community to engage, learn and adjust mindsets in order to act on these kindness themes. The annual "mini walk" was also included in the week's activities.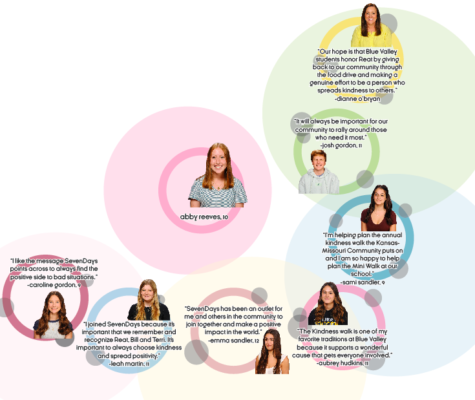 "Since the official Kindness Walk is inconvenient for high schoolers to attend, we bring it to BVHS on the track with music, balloons, and an opportunity for people to write kind notes to their peers and teachers," Reeves said.
Along with the Kindness walks that week, BV's SevenDays committee, Tiger Pride, and Connections classes will be hosting a food drive to benefit the newly opened Blue Valley School District food pantry.
"Our goal is to collect 700 cans — 100 cans for each of the seven days," SevenDays sponsor Dianne O'Bryan said. "All of the items that we collect will go to the Blue Valley School District food pantry which serves employees and families in the Blue Valley community." 
The efforts of the SevenDays committee were dedicated to making this year's SevenDays a positive experience by spreading joy and kindness.
"SevenDays is all about changing the world with one small act of kindness at a time," Reeves said. "That is a valuable reminder everyone could use every once in a while."