Brief Views Around Blue Valley August 2021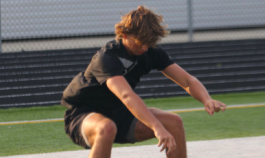 Summer Workouts
Summer workouts took place over the past few months as athletes experienced the brief respite from the mask mandate following local and CDC guidelines.
Mask and safety protocols will be monitored by the district as the Delta variant of COVID-19 spreads throughout the country. Students can stay updated on future expectations for outdoor events and athletics through BV Tiger News on Instagram, as well as through BV student email.
Annual Car Wash
On Saturday, June 5 cheer hosted their annual car wash to gather donations to support the team on their journey to State, as well as through their Regional and National competitions.
The team completed learning its State routine at cheer camp prior to the school year and will continue to work on their routine until State takes place.
Cross Country Training
Cross country kicked off their rigorous training schedules with Fun Week beginning Monday, July 12. The week consisted of five days of activities that
combined both practice, as well as team bonding and prize giving. Seniors Ellie Graham and Nolan Rodriguez were crowned as the winners of Fun Week.
The season officially began August 16, and the team will have its first meet Saturday, Sept. 11.