Staff Editorial: Bullying still remains an issue, not taken seriously enough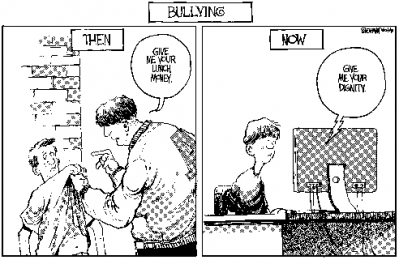 Anti-bullying.
We've all heard it a million times. The concept has been jammed in our heads since grade school, and when we were old enough to understand it, so was suicide prevention.
As bad as it sounds, it seems like everyone's gotten tired of it.
It's so common to hear something like, "Oh my God, we get it," when we have yet another anti-bullying lesson in Tiger Time.
So, why is it still an issue?
Why are teenagers still getting away with saying whatever they want, especially online, after countless lessons on bullying?
When people are given the ability to be anonymous online, it gives them a sense of power to say whatever they want.
A lot of students honestly think a deleted online post, especially if it was posted anonymously, is gone forever.
It's true, once something online is deleted, it's hard for the average Internet user to
go back and find it; but, in the rare case someone bullied online contacts the authorities, deleted posts, anonymous posts and anonymous accounts can be retrieved easier than one would think.
People are so quick to announce how "cruel" our society is when news of another teen committing suicide is out, but usually a lot of these
people are the same ones fueling our society's ways.
They're the same ones sending anonymous hate to their peers — the ones "jokingly" telling others to kill themselves or initially criticizing the fact that anyone could ever be anything but happy in a place like Johnson County.
People don't realize it's the little things that trigger others. A simple online post could be the last straw.
Not only would you have to live with the fact you were partially responsible for someone's death, but also that sort of crime can stay on your record for the rest of your life.
This is not about "putting an end to bullying" — we've all heard that enough.
This is about the consequences you could face for contributing to what our society considers "a joke."