"The most rewarding part of life is getting out of your comfort zone and experiencing new things."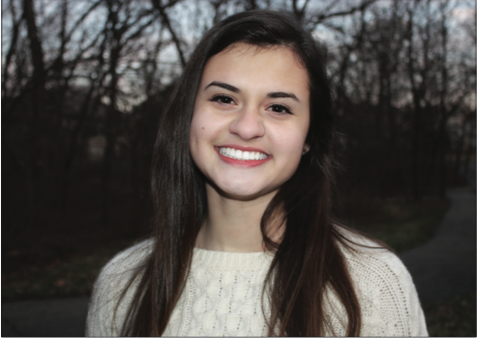 Throughout my life, I've always been scared.
When I was little, I was terrified of the Easter bunny because I didn't know what was hiding underneath his immense, smiling rabbit face.
In middle school, I was petrified of gym class after I was hit in the head with a flying basketball.
And on my first day of high school, I was nervous I would be shoved into the lockers by the intimidating, bearded upperclassmen.
Now, as a senior in high school, I'm about to embark on my biggest adventure yet and dive into perhaps the scariest thing I've ever experienced — college.
Don't get me wrong, I'm beyond elated to become a college student.
However, moving on from high school, my best friends and my family is also terrifying.
In the last four years at Blue Valley, I've experienced a roller coaster of emotions.
I've ended many friendships with people I foolishly thought would always be there for me.
I've suffered through many midnight hours of studying the night before a math test.
I've even lost important people in my life such as my grandpa, one of the greatest men I've ever known, and my rabbit, Shawnee, who was the only pet I've ever had.
Although the past four years have hosted their fair share of negative experiences, they have also been the best years of my life.
When I stepped into BV as a timid, quiet freshman, I didn't know what to expect.
I was scared of all of the new events high school offered, and I didn't know how to thrive in this new environment.
However, over the next four years, I met many peers and teachers who influenced me. With each encouraging phrase or gesture, I became more comfortable at BV.
I joined the cross country team, an idea I'm still not sure why I pursued, but one I'm immensely glad I did. I had a love-hate relationship with running, but I met some of my best friends during runs when we thought our legs were going to give out.
I joined the newspaper staff my junior year, and in Room 450, I found where I truly belonged. From making jokes about Comic Sans to judging Donald Trump, the newspaper staff is a family. Whenever I was upset or stressed during school, I would remind myself that fifth hour would make everything better. Walking in and being greeted by all of the staff's smiling faces (and sometimes a beautiful plate of cookies) made my bad days a million times better.
In high school, I also found my best friends, and even though I didn't become close to some of them until senior year, I don't regret it. I finally have people in my life who are there for me no matter what, and we can hangout and just talk and still have the best time.
And perhaps one of the biggest lessons I've learned over the last four years is you can always count on your parents. Although they may annoy you to no end with their embarrassing mom-dancing or overly friendly personality, they are there for you when no one else is. Without the support of my parents, I know without a doubt I wouldn't be as motivated or successful as I am today.
All of the people I've interacted with and all of the experiences I've encountered over the last four years transformed me into a more confident and independent young adult.
However, although BV is now my second home, the purpose of living isn't to be comfortable. The most rewarding part of life is getting out of your comfort zone and experiencing new things. Do something scary — you never know what could change your life.
High school frightened me, but I used my fear as motivation. I worked hard in school and made the most of my high school career.
Without BV, I wouldn't be where I am today, on my way to becoming a Bulldog at Drake University next year.
Yes, I'm scared for college and for what the future holds for me. But I'm going to embrace this new, terrifying experience.