Office Appointments
Students don't get to talk to counselors when they want to
When you get to school, the first thing you do is go to your locker. You turn the lock and it doesn't open. What are you supposed to do?
You won't have any binders for any of your classes— you decide you will go to the office and they tell you they won't be able to open it until the next day because that is the first appointment that is open. This is not OK.
Many students here at Blue Valley have many reasons they need to talk to people in the office for schedule changes, personal issues and advice in general.
Many people have tried to talk to their counselors when they need something and they tell them every time that they need an appointment.
If the counselors aren't with another student, students should be able to talk to them.
According to the American School Counselor Association, the point of a school counselor is to help all students in the areas of academic achievement, personal and social development and also career development.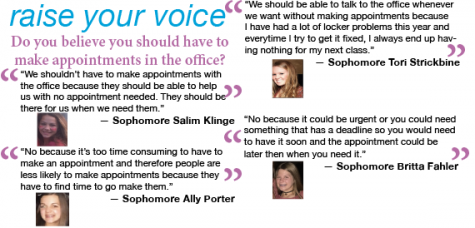 These counselors are trying to ensure that today's students will become the productive adults of tomorrow. Our counselors try do that but could improve if we get to talk to them when we want.
At Blue Valley Middle School, you can go talk to your counselor whenever you want. They have about 560 students for two counselors, which is 280 students per counselor.
At Blue Valley High School, there are about 1,560 students for five counselors, which is 312 students per counselor.
The Blue Valley High office says that we have to make appointments because there are too many students per counselor.
Thirty-two students each is not that many considering one in every five students have to make an one appointment in the office each month.
Blue Valley students should not have to make appointments with the office because they don't have time to wait. If your locker doesn't open, that is a lot of makeup work and that could be solved if someone helped you right away— you can't make an appointment if you don't know that your locker is not going to open.