Public School
Going to a public school has been very different than private school. This year I can wear something other than a uniform. At my private school, we had to wear a uniform everyday. We had out of uniform days every month or for any special occasion. Being able to pick out what I want to wear for school has been great.
One thing I also couldn't do at my private school was choosing what classes I take. This school year I got to choose what classes I wanted to take. I could choose if I wanted to be in any honor classes, honors can benefit me by getting more in depth in the course. They didn't have any honor classes at private school. There are so many more teachers at B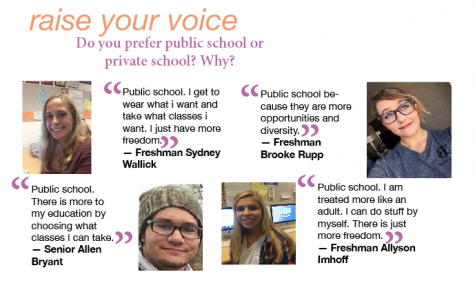 lue Valley than at private school. There was only three teachers for every grade plus six special teachers.
There is so much more to my education by going to a public school. To all the different classes and courses I can take to prepare me for my future. By helping figure out what I what to do for a career. Now going to a public school I can tell that there is a big difference in what they teach you. At a private school they don't help you figure out what you want to do in your near future or a possible career choice.
Changing to a public school has been so much fun and exciting. I have been exposed to so many good things that would not come to me at a public school. Everything has been better than private school since the beginning of the school year.