Tiger Pause
Tiger Paws gives students great opportunities
Every day is a great day to be a tiger at Blue Valley, especially with Tiger Paws.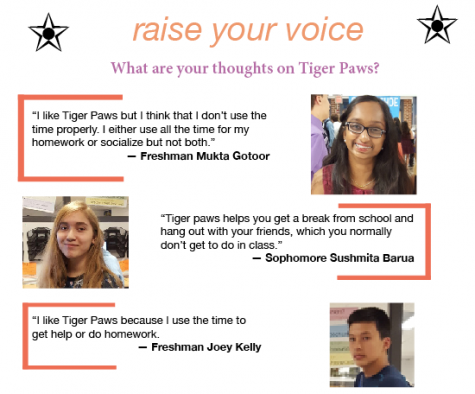 Tiger Paws started this year, and I'm very lucky to have it all four years of high school.
Tiger Paws is a huge opportunity to do homework and talk to teachers.
It also doesn't rush students to eat their lunch.
My favorite part of the day of Tiger Paws because it's a nice break in the middle of the day. It lets me have a brain break from school's work.
Tiger Paws lets students get the extra help they need in classes to help their grades increase. It's unlike any other thing in high school.
I know that not everyone uses Tiger Paws well but I've been able to get help from teachers and work on assignments. It's given me a chance to make up work in classes and so much more.
Instead of having to stay after school, I can just get the work done in school and go home without much homework. There are some days where I still have homework, but it's nice knowing that I don't have as much .
Tiger Paws is great because it's an opportunity unlike any other in high school to help students finish work. Students are able to catch up in classes, with friends and are able to take an hour to relax in school..